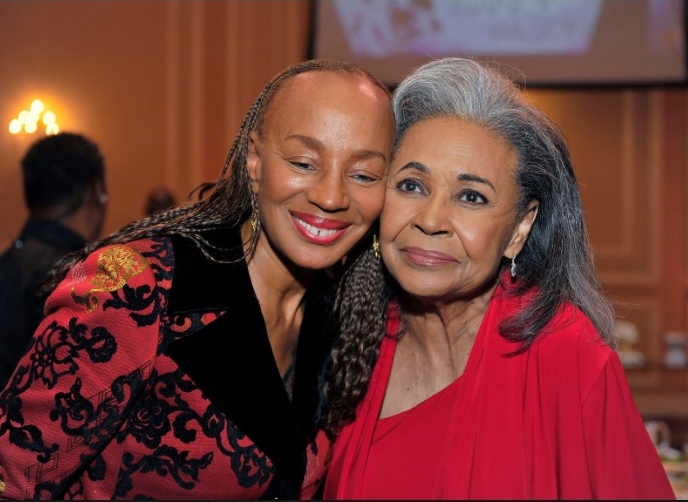 Nancy Wilson is one of the most celebrated jazz singers of all time. Since her debut in 1960, she's recorded over 50 albums, received three Grammy awards, was inducted into the Big Band and Jazz Hall of Fame and even received the Jazz Masters Fellowship Award from the National Endowment for the Arts. And this year, the legendary singer celebrated her 80th birthday.
When you've lived an incredible life like Wilson, your birthday deserves some serious celebration, which is why the icon celebrated at Hollywood's at Taglyan Complex on February 20, surrounded by family and loved ones as well as a host of famous friends.
For a taste of Nancy Wilson's music, check out the video below:
Actor Jonathan Slocumb and actress/singer Dawnn Lewis served as hosts for the party, which was presented by Edward Roebuck, Wilson's longtime road manager. Thankfully, they had some help with the festivities thanks to dancers from the Debbie Allen Dance Academy, who wowed the crowd with an elegant performance.
Those in attendance included singer Mary Wilson of The Supremes, Arsenio Hall, Dionne Warwick, Angela Bassett, Courtney Vance, Clifton Davis, Marla Gibbs, and many more. Fellow music titan Stevie Wonder was also in attendance, and stunned the crowd with a performance of his hit song "You Are The Sunshine of My Life," a fitting tribute to the great Wilson.
Watch Stevie Wonder's performance in the video below:
Nancy Wilson has shied from the public in recent years, having retired from performing in 2011. But her birthday provided a welcome return to the spotlight, celebrating her amazing life and remarkable career. And thanks to Taglyan Complex's superior setting, Wilson and her guests were able to celebrate with a level of class and elegance fitting her impressive accomplishments.
Interested in more Taglyan events? Check out these blogs:
If you're looking for a world-class event venue in Los Angeles, consider Taglyan Complex. Our event venue offers outstanding service and luxurious amenities perfect for social events like birthday parties, corporate events, wedding receptions, and so much more. For more information on booking and availability, contact Taglyan Complex today.