Exquisite Event Catering and Fine Dining
Offering The Most Delicious and Diverse Catering Menu in LA
The culinary experts in Taglyan Complex's state-of-the-art kitchen believe, like many of our guests, that successful wedding receptions, social events, and corporate gatherings require two essential ingredients: exquisite food and uncommonly great service. Because Taglyan's cuisine is all prepared in-house (courtesy of Divine Food & Catering), the venue's chefs and service coordinators can control every aspect of a meal's preparation and delivery, from sourcing the freshest ingredients to making sure every dish is served on schedule and with a professional flair. Clients may choose from one of our popular preset menus or build their event's culinary selections from scratch—at Taglyan Complex, there is no custom menu we can't create and no dining preference we can't accommodate. We are here to serve you!
Divine Food & Catering
Employing Southern California's most innovative culinary masters, creative bartenders, and polished service staff, Divine Food & Catering will elevate any wedding reception, social event, or corporate function with an extensive array of culturally-inspired selections and customized service options. Prior to your event, Divine's knowledgeable team will develop a tasting menu based on your individual preferences, then work closely with you to finalize a unique menu that perfectly complements your occasion. Regardless of which dining options (or combinations of options) you choose, we guarantee that Divine Food & Catering's experienced managers and proficient service staff will execute every request to your exact specifications.


Dining Options To Suit Every Occasion
Hors D'oeuvre Service
Popular during bridal cocktail hours or during large, venue-wide events like trade shows and professional conferences, Hors D'oeuvre service can keep appetites at bay and stimulate congenial conversation among guests. Divine Food & Catering's extensive selection of gourmet appetizers will infuse any event with energy and complement your unique celebration or banquet.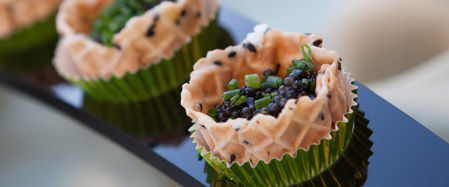 Buffet-Style Dining
Buffet-style dining allows each guest to customize their culinary experience by choosing from an array of delicious entrees, savory sides, and delectable desserts. The ideal choice for semi-formal dinners and casual wedding receptions, buffet-style catering is the best way to guarantee that no guest leaves your event hungry. Buffet selections may also be served by our friendly staff if desired.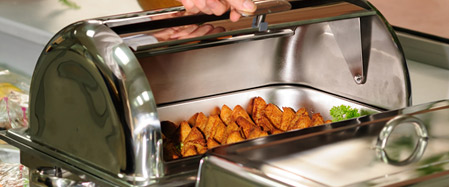 Family-Style Dining
A favorite option at ethnic weddings and cultural celebrations, family-style dining combines the formality of full-service fine dining with the options and large portion sizes of buffet-style dining. For meals served family-style, platters of preselected menu items are delivered to each table, giving guests the power to fill plates with their choice of appetizers and entrees. Lively conversation is sure to ensue!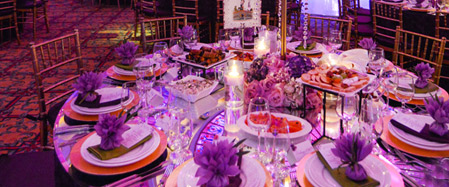 Specialty Tables
Specialty tables are a wonderful way to stimulate conversation and add a unique element to your event. Whether created in-house or by one of our affiliate vendors, Divine Food & Catering will augment the atmosphere at your social gathering or bridal celebration with ice sculptures, champagne stations, chocolate fondue fountains, a frozen drink luge, or hundreds of other inspiring additions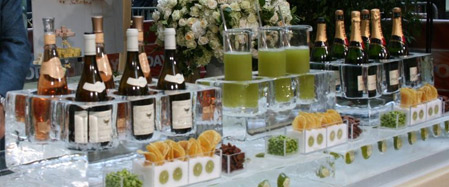 Artisanal Cocktails
In addition to serving a selection of fine wines and ice-cold beer, Divine Food & Catering's seasoned mixologists will pour perfectly-balanced martinis, made-from-scratch artisanal cocktails, and the best Old Fashion you and your guests have ever tasted. For a truly memorable experience, Divine's bartenders will even create a signature drink for your party, mixer, or wedding reception.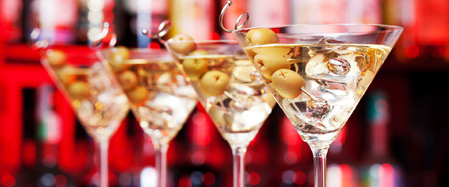 Formal Dining Service
For events that require an extraordinary dining experience, Divine Food and Catering's formal dining service will lend an air of luxurious sophistication to any wedding reception, charity gala, or business conference. Collaborate with our experienced coordinators to develop a unique, multi-course menu, then allow Divine's servers to deliver each course to your guests with poise and precision.