The Black LGBTQ community is filled with impressive artists, trailblazing business leaders, and inspiring individuals that often get overlooked by the mainstream. Thankfully, Better Brothers Los Angeles is here to shine a light on this incredible community.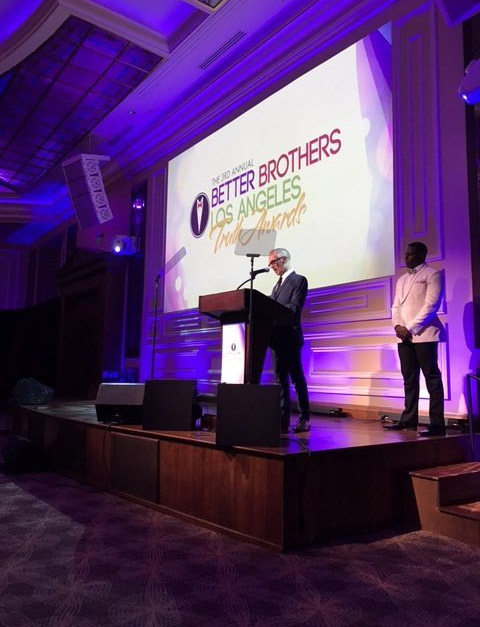 The non-profit organization hosted its 3rd Annual Truth Awards on March 11 at Taglyan Complex, celebrating the incredible artistic and business accomplishments of individuals across the Black LGBTQ community. According to the organization, "The award embodies our belief that members of the Black LGBTQ community who embrace and live their truths should be recognized and honored. Along with our allies, they represent the very best in our community and serve as examples to us all."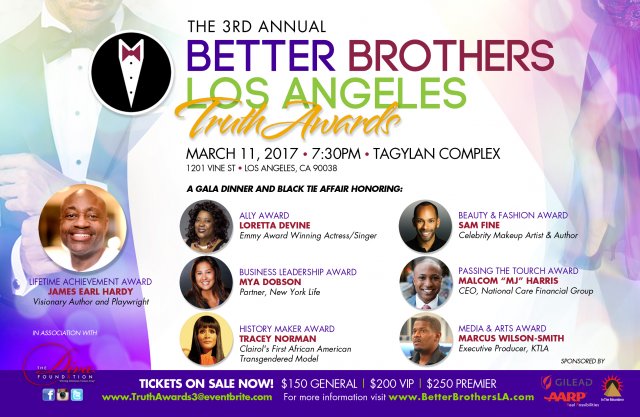 As always, a host of inspiring individuals were honored at the black tie event. Those honored at the Truth Awards included:
James Earl Hardy, author and playwright, awarded the Lifetime Achievement Award.
Loretta Divine, Emmy Award winning actress/singer, received the Ally Award.
Mya Dobson, Partner at New York Life, received the Business Leadership Award.
Tracey Norman, Clairol's first African-American transgender model, with the History Maker Award.
Sam Fine, celebrity make-up artist and author, with the Beauty & Fashion Award.
Malcolm "MJ" Harris, CEO of National Care Financial Group, with the Passing the Torch Award.
Marcus Wilson-Smith, Executive Producer at KTLA, with the Media & Arts Award.
The Truth Awards provide a notable night of celebration for the Black LGBTQ community, but their importance extends beyond awards night. As Tracey Norman put it:
"Given the climate we're living in, it's even more important that we recognize and celebrate who we are. Unfortunately, we are still living in a culture that attempts to erase us… And tells us on a daily basis that our lives do not matter. They do matter. The Truth Awards is one of the best ways to hold up that mirror, not only for us, but for society."
For many in attendance, the Truth Awards represent a greater push for equality and acceptance of the Black LGBTQ community among the mainstream.
For more events at Taglyan Complex, check out the blogs below: 
In addition to the annual Truth Awards, Better Brothers Los Angeles also works year-round to educate, inspire, and connect the Black LGBTQ community throughout Southern California. The Truth Awards are a perfect culmination of the organization's work, shining a light on the community that it's dedicated to serving. And thankfully, the ceremony found a worthy home at Taglyan Complex.
Check out KTLA's coverage of the 3rd Annual Truth Awards below: 
Looking for a luxurious event venue in Los Angeles? You should consider Taglyan Complex. Our event venue offers world class accommodations and elegant decor perfect for awards ceremonies, corporate galas, weddings, and so much more. For more information on booking and availability, contact Taglyan Complex today.