The Perfect Setting For Life's Special Moments

Our Glamorous Venue & Delicious Cuisine Will Make Your Wedding Day Unforgettable

Every Guest Deserves The Royal Treatment

Five-Star Cuisine, Creative Cocktails, Custom Menus & Peerless Service

Italian-Inspired Gardens Make Events Magical

The Exquisite Gardens Are Perfect For Red Carpet Entrances, Outdoor Receptions, & Beautiful Wedding Photos

Personalize Your Experience

Hundreds Of Ways To Make Your Event Completely Unique & Memorable

Lights! Camera! Action!

Our Beautiful Venue & Stunning Amenities Are A Filmmaker's Dream Come True

Lighting Done Right

State-Of-The-Art Lighting System Brings Your Event To Life By Accentuating Every Detail

Entertain Your Guests In Luxury

Teeming With Timeless Elegance, Taglyan's Foyer Is Perfect For Cocktails & Socializing
The Most Enchanting Event Venue in Los Angeles For Weddings & Social Gatherings
Taglyan Complex Features Unrivaled Amenities, Unsurpassed Beauty, & A Commitment To Community Improvement
The archetype for all other wedding venues and banquet halls in Los Angeles, Taglyan Complex has developed into a venerable cornerstone in the LA community. From its star-studded corporate events and opulent wedding celebrations to the venue's integral involvement in local charitable organizations, Taglyan Complex is unmatched in elegance, ambiance, and integrity.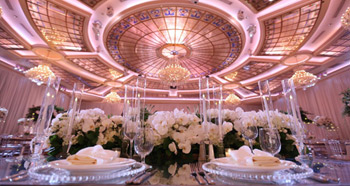 The Grand Ballroom features a beautiful 5000 square foot circular stained glass ceiling, tear-drop crystal chandeliers, and a customizable ambient lighting system.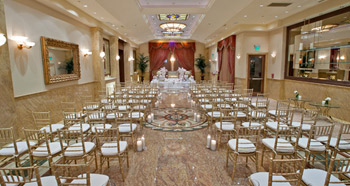 Taglyan Foyer is the ideal setting for pre-function cocktails, small receptions, or intimate wedding ceremonies, and includes a furnished private patio.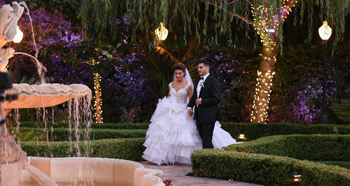 With its Renaissance-inspired fountain and elegant Italian cypress trees, the Taglyan Gardens provide an elegant backdrop for receptions and photos.
Located in the heart of Los Angeles, Taglyan Complex offers far more than a breathtaking backdrop for Southern California's most noteworthy entertainment events, fashion shows, and political ceremonies. Though the venue's beautiful European-inspired décor and custom-made 5,000 square foot stained glass ceiling never fail to leave guests speechless, Taglyan Complex's contributions to the community are equally as impressive as the formal celebrations that take place within its iron gates and stately limestone exterior. Since opening in 2008, the venue has worked tirelessly with numerous charities to improve the lives of those in need, and has been recognized by city, state, and national publications for both its philanthropic works and for its excellence as an event venue.

Uncompromising service is the foundation of every great Taglyan Complex event. Dedicated and detail-oriented, Taglyan's venue coordinators, event planners, and service staff will guarantee the success of your wedding reception, fundraising gala, awards show, or company conference by providing hands-on event planning and peerless customer service that exceeds the loftiest expectations.

Through Divine Food & Catering, Taglyan Complex elevates any event with five-star cuisine, hand-crafted artisanal cocktails, and a variety of custom menu and dining options to perfectly complement your occasion. Divine's world-class chefs use only the freshest organic and locally-sourced ingredients to infused your unique selections with culturally-inspired flavors.
Glance Through Our Events
A Treasured Venue Recognized For Unparalleled Excellence
Taglyan Complex's commitment to excellence, both as an event venue and as a force for good in the Los Angeles community, has garnered recognition from hundreds of nationally-distributed magazines and websites. Popular publications like The Knot and Junebug Weddings have endorsed Taglyan Complex as an industry leader in banquet halls, and readers of CityVoter have chosen it as one of Southern California's Best Wedding Venue. To see more examples of Taglyan Complex's notoriety, we invite visitors to peruse Taglyan In The Media section.
In The Media
Over the years, Taglyan Complex's unsurpassed amenities, beautiful facilities, and extravagant events have generated publicity from hundreds of esteemed magazines and websites. Recognized for its excellence as a event venue as well as for its involvement in the Los Angeles community, Taglyan has graced the pages of some of the most popular and trusted publications in the country.
Celebrity Guests
Known for its glamorous galas and black-tie award shows, Taglyan Complex regularly entertains some of the hottest stars and most influential figures in film, television, fashion, politics, and professional sports. Oprah Winfrey, Tyler Perry, Hillary Swank, Forest Whitaker, Jeff Bridges, and 50 Cent are just a few of the celebrities that have graced Taglyan's red carpet. See the full celebrity guest list here!