Audio & Visual Specifications
Louder, Brighter, Clearer, And More Flawless
Fundraising speeches, wedding receptions, and social events at Taglyan are louder, brighter, clearer, and more flawless than ever thanks to our state-of-the-art audio capabilities, gorgeous lighting options, and world-class video presentation. Guest can mingle in the Garden and Foyer during cocktail hour or pre-function as music plays through our crystal-clear, venue-wide sound system, then gather in the Grand Ballroom that has been voted as one of the best Banquet Hall in Los Angeles for a stunning High-Definition video presentation on our enormous projector screens. To ensure all technical aspects of your event goes smoothly, Taglyan also offers our experienced audio/visual technicians as part of our comprehensive event planning services.
3D Projection Mapping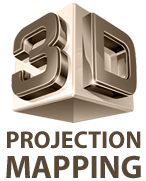 Transform anything into a screen with the burgeoning art of projection mapping.
A few years ago video projection mapping was a fledgling artform, with a handful of noteworthy examples. Now, no building opening, product launch, award ceremony, or wedding ceremony worth its salt would be seen without a head-turning projection.
Video projection mapping has the capacity to transform any object into a screen. Forget flat projection, as projection mapping has the ability to take a real-world object, such as a building, and project onto its walls without any distortion. Events combine motion graphics, 3D animation, and an occasional dash of video that playfully highlights, deconstructs, rotates, recontextualises and generally manipulates a building's usual geometry.
Concert-Hall Quality Audio

A professional sound system can be the difference between a difficult-to-hear speech and a crystal-clear presentation. At Taglyan Complex, our 12 Tannoy Cabinent speakers, top-of-the-line Mackie mixing board, and Sure microphones will guarantee your guests will hear every word, while our professional sound engineers make real-time adjustments to ensure everything sounds perfect.
Mixer: Mackie Onyx 24:4
Sound/Power Processors: EAW, Lexicon, Furman & BBE
Full Surround Sound in Grand Ballroom (12 Custom Dual 10' Tannoy Cabinets)
JBL Stage Monitoring Speakers (Eon & SRX Line)
6 QSC PLX3602 Power Amplifiers (21,600 Watts Total Peak)
EAW Concert Line Array System (Two Stacks of 4 on Sides of Stage)
Surround Sound for Foyer, Gardens, Restrooms, & Smoking Patio
2 Sure ULXP Series Wireless Hand-Held Microphones
6 Sure Beta 58 Microphones with XLR Cables
6 Microphone Stands
Stunning Video Capability

Whether playing a heartfelt video montage of the newlyweds during the reception, displaying sponsor logos during a corporate event, or even airing live text-to-bidding, the ability to play High-Definition videos is a practical necessity when choosing an event venue. At Taglyan Complex, our technical directors and video operators will use our venue's drop-down projectors, digital effects, and Gobo Projector capabilities to enhance your special event.
2 Panasonic Full High-Definition Movie/Video Projectors
2 Drop-Down Ceiling-Mounted Projector Screens (14'x14')
Extra-Wide-Angle Projection on Main Stage Wall (20'x20')
Digital Special Effects Video Wall
Logo/Gobo Projection Capability
Limitless Lighting Options

Taglyan Complex is known for its extraordinary LED lights, but our venue's lighting capability extends far beyond simply customizing the color of the Ballroom and Gardens. Intelligent Moving Head spotlights ensure that each event's performer, speaker, or newly-married couple is well-lit for photographs, while the impressive Pin Spots accentuate each table's magnificent centerpieces and place settings. Whether your desire a bold, professional ambiance or a dreamlike setting, Taglyan's lighting technicians can create it for you.
9 Intelligent Moving Heads (3x Elation Design Spot 250W, 6x Elation Design Spot 575 EW)
5000-Square-Foot Back-Lit LED Glass Ceiling.
Perimeter LED Up Lighting
Stage Up Lighting
Full LED Automation in the Taglyan Gardens
Table Pin Spots
Full Stage & Dance Floor for Performances
Optional Sound Engineer
Optional Lighting Technicians
Formal Presentation Podium
Lighting/Sound Engineers Available Upon Request
Step-And-Repeat and Red Carpet