Just because the weather in Southern California has cooled doesn't mean the exciting events at Taglyan Complex have subsided. Join us in Hollywood for the Slow Wine Tasting Event and the Engaged! Bridal Show, along with many other notable galas, awards banquets, and fundraisers, in the coming weeks and months!
---

January 27th – The Slow Wine Tasting Event
Featuring over 65 wine producers and offering selections from more than 15 of Italy's most famous wine regions, the Slow Wine tasting event and tradeshow will begin its three city tour in Los Angeles, stopping first at Taglyan Complex before moving on to San Francisco on January 29th and New York City on February 2nd and 3rd. In addition to the winemakers, hundreds of vintners, importers, and producers' delegations – not to mention countless restaurateurs, somaliers, industry enthusiasts, and members of the foodie press – will have the opportunity to discover and taste over 100 wines at the event.
As a subset of Slow Food International, a "global, grassroots organization with supporters in 150 countries around the world who are linking the pleasure of good food with a commitment to their community and the environment," Slow Wine focuses on small-scale winemakers that use traditional, environmentally-friendly methods and critiques wine through the perspective of the Slow Food philosophy. With the purchase of every ticket, those attending the event will receive a complimentary copy of The Slow Wine Guide 4th Edition (valued at $25), purportedly the only Italian wine guide that visits all of the included winemakers on location, at their vineyards.
If you are a distributor, restaurateur, somalier, or member of the press and would like to attend the Slow Wine event, visit EventBrite.com for tickets.
---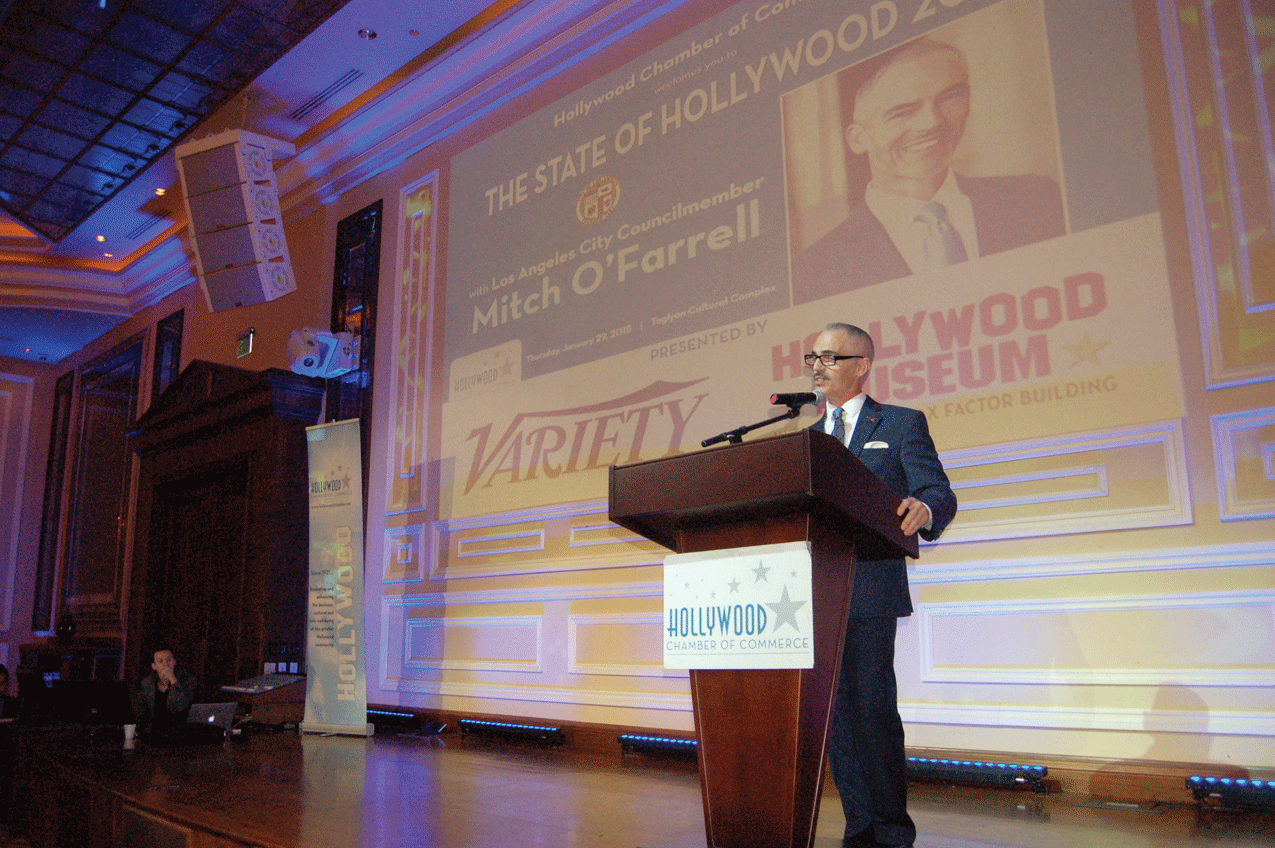 January 29th – "State of Hollywood" Address at Taglyan Complex
Economic growth and plummeting crime rates are just a few of the highlights from Councilman Mitch O'Farrell's 2015 "State of Hollywood" address at Taglyan Complex. O'Farrell has been praised by constituents and residents for his dedication to improving the quality of life for citizens in L.A.'s most diverse district.
For those interested in attending next year's State of Hollywood Luncheon, which includes a networking mixer and a luncheon, Chamber President and CEO Leron Gubler urged people not to delay. "Every year, we encourage people to be sure and make their reservations early. We have sold out for this event in the past. We expect a lot of interest [again next year]."
To learn more about the "State of Hollywood" Luncheon, click here.
---

February 4th – The 6th Annual African American Film Critics Association Awards
Though the African American Film Critics Association (AAFCA) already determined the winners for the 2015 AAFCA Awards – Selma, the film about Dr. Martin Luther King Jr., took home top honors, including Best Director (Ava DuVernay), Best Actor (David Oyelowo), and Best Song ("Glory" by John Legend and Common) – the AAFCA will hold the official award ceremony and dinner on February 4 at Taglyan Complex to formally recognize their selections.
"Our members found the output of cinema released this year to be a truly insightful mix of titles that reflect the world we live in," said AAFCA President Gil Robertson. "The members of AAFCA were especially pleased with this range of storytelling supported by the studios that gave voice to the many sides of the experience of black people in America and around the world." As an organization, the AAFCA honors excellence in cinema, specifically recognizing films that emphasize the black experience and those that are produced, written, directed, and star African American performers.
For tickets to the event, visit the AAFCA's website.
---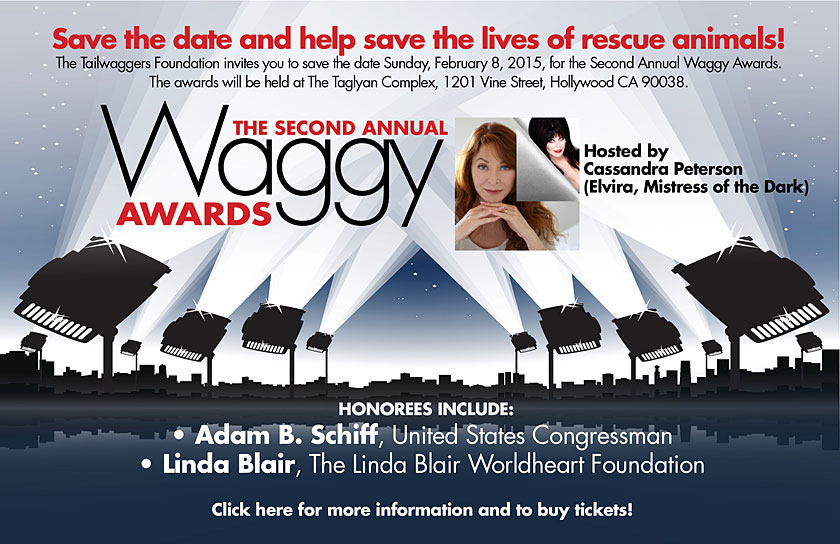 February 8th – The Second Annual Waggy Awards
Hosted by special guest Cassandra Peterson (best known for her portrayal of Elvira) and the Tailwaggers Foundation, a charity that provides funding to qualified animal-rescue nonprofit organizations, the Waggy Awards honors individuals who have "demonstrated remarkable spirit and conviction in the crusade to improve animal welfare in the local community and around the world." This year, the foundation will recognize U.S. Congressman Adam B. Schiff and Linda Blair of the Linda Blair Worldheart Foundation, among others, and raise much-needed aid for Los Angeles-area animals in need.
For those interested in attending, tickets are $75 in advance ($85 at the door) and can be purchased on The Tailwaggers Foundation website.
---

February 22nd – The Engaged! Bridal Event
In 2014, over 50 of the industry's best wedding planners, decorators, photographers, videographers, bakeries, florists, travel agencies, and entertainers gathered in Taglyan Complex's majestic ballroom to display their services and chat with thousands of soon-to-be brides about how to make their weddings' unforgettable; this year, Taglyan expects the turnout to be even greater, and the selection of vendors to be more impressive than ever.
For only $25, guests will not only have access to dozens of inspiring bridal professionals, but will also be treated to bottomless Sunny Mimosas, Chambord Kir Royale, fine Hors D'oeuvres prepared by Taglyan Complex's world-class chefs, and live entertainment demonstrations throughout the afternoon.
Tickets are limited, so head to the Engaged! Bridal Event website to see the list of vendors and reserve your entry to the can't-miss event!
Read about last year's Engaged! Bridal Event on the Taglyan Complex Blog.
---

March 3rd – The DreamBuilders Project Gala
Featuring a red carpet, open bar, silent auction, live music, and surprise celebrity appearances, the Dreambuilders Project's 2nd annual "Brighter Future For Our Children" Gala at Taglyan Complex is a great way for philanthropic individuals and charitable organizations to support a worthwhile cause; proceeds from the event will directly benefit the Audrey Hepburn CARES Center at Children's Hospital Los Angeles, which provides medical expertise to reliably identify and treat hundreds of children who fall victim to abuse and neglect each year.
For tickets to the event, visit the DreamBuilders Project website or purchase admission on EventBrite.com.
---

March 9th Through March 12th – Art Hearts Fashion Designer Showcase
Once again, Taglyan Complex will be hosting the Art Hearts Fashion Designer Showcases as part of the 2015 LA Fashion Week festivities. The event promises one of the most glamorous and edgy fashion shows of the season, and guests will be treated to art-inspired creations by designers Sue Wong, Nicole Miller, MTCostello, Hallie Sara, Mister Triple X, Beso Moda, House of Byfield, Zhang JingJing, Colin Eggelesfield, Jow Juniors, Isabella Couture, and many others. For a comprehensive schedule and full list of designers, visit Art Hearts Fashion online.
To read about the 2014 Art Hearts Fashion Showcase at Taglyan Complex, click here.
---

March 18 – Norma Jean Gala
Presented by toymaker JAKKS Pacific, Inc., The Norma Jean Fundraising Gala benefits Hollygrove, an organization dedicated to "providing help and hope for Los Angeles' most underserved, vulnerable, and at-risk children." Named after famed actress Marilyn Monroe, who herself came to live at Hollygrove in 1935, the nonprofit organization offers counseling and crisis services, mental health services, therapeutic after-school programs, and even funds a children's camp named Camp Hollygrove.
To reserve your seat at the Norma Jean Gala, or for more information on how to become a Hollygrove Sponsor, click here.
---

April 30th – Third Annual Empower Breakfast Hosted By Dress For Success Worldwide
Join the leaders of Dress For Success at they honor Paige Adams-Geller and Pat Harvey at the 3rd Annual Empower Breakfast at Taglyan Complex. In addition to mingling with some of Southern California's most philanthropic minds over a delicious meal, attendees will learn more about Dress For Success' mission of providing professional attire and career development tools to economically disadvantaged women. The event will be hosted by award-winning actress and Dress For Success ambassador Jaime Pressly.
For tickets and detailed information, click here or visit Dress For Success online.