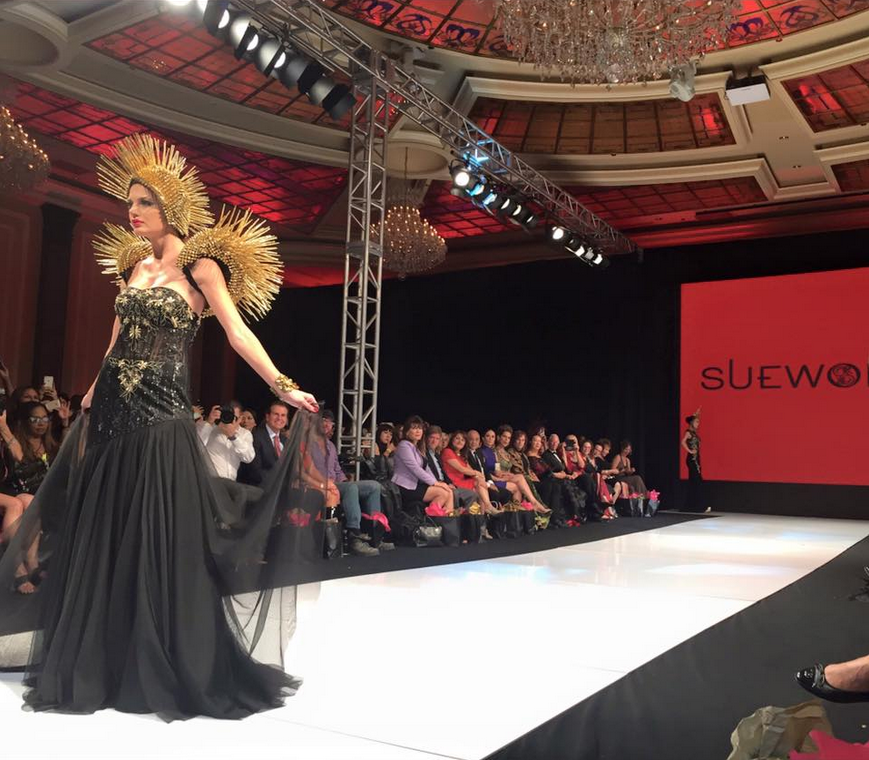 LA Fashion Week returns to the City of Angels once again, bringing with it exciting new Spring/Summer looks from the industry's hottest designers. For four days, from October 5th–October 8th, Taglyan Complex will welcome Art Hearts Fashion (and with it, Project Ethos) into the venue's beautiful ballroom. The preliminary schedule for the week's showcases is as follows:
October 5th – Sue Wong Runway Show at 7 p.m., Gregorio Sanchez / Tatiana / House of Lijon Runway Show at 9 p.m.
October 6th – Betsy Johnson 50th Anniversary Presentation, at 4 p.m., Vis A Vis / Responsive Textiles / Dan Richters / Lolly Clothing Runway Show at 7 p.m., Koco Blaq / Just Bones Boardwear / House Of Byfield / Mister Triple X—Vortex Runway Show at 9 p.m.
October 7th – Noa Designs / Lil Jewels / Mahkenna / Lulu Et Gigi / Isabella Couture Runway Show at 6 p.m., Consort62—Miss Consort / Joules / Elochee / Nicole Miller Runway Show at 8 p.m., Stello Official by Stephanie and Michael Costello Runway Show at 10 p.m.
October 8th – Aussie Gear La / Levitation Activewear / Courtney Allegra / Amren Tulano / Shalemar Runway Show at 7 p.m., Mister Triple X – One Rose / Michael Ngo Couture / Amato Haute Couture By Furne One Runway Show at 9 p.m.
For more information regarding the schedule and tickets, please visit: http://www.artheartsfashion.com/
To see highlights from the Fall/Winter 2015 Art Hearts Fashion Show, click here!
---
October 5th
After the 2016 Spring / Summer L.A. Fashion Week officially commenced with the Arts Hearts Fashion opening gala at the W Hotel in Hollywood, California, the AHF Showcase opened today with Sue Wong's "Alchemy & Masquerade" collection. Prince Mario-Max Schaumburg-Lippe kicked of the runway show with a prelude dance, and Wong's mystical, magical designs—replete with intricate headpieces and shimmering fabrics—followed. The evening concluded with shows by Gregorio Sanchez, Tatiana, and House of Lijon.
October 6th
Beginning with the seemingly unstoppable 73-year-old Betsey Johnson's 50th Anniversary Collection, Day 2 of LA Fashion Week's 2016 Spring/Summer Art Hearts Fashion Showcase picked up where the previous night left off, treating spectators to gorgeous designs by Vis A Vis, San Diego-based designers Responsive Textiles, Dan Richters, and Lolly Clothing. At 9:00 p.m., the show kicked into overdrive with exhilarating runway performances by Koco Blaq, Just Bones Boardwear, House of Byfield, and Producer Erik Rosete's own Mister Triple X "VorteX" Collection.
October 7th
Though mesmerizing shows by designers Lulu et Gigi, Isabella Couture, Consort62, Nicole Miller, and Stello entertained audiences throughout the afternoon and evening, it was 11 year-old Noa Sorrel's first runway show that left many spectators at Taglyan Complex reaching for their tissues. Noa developed her entirely clothing line while undergoing chemotherapy treatment for cancer, and her show was made possible by the Make A Wish Foundation. Alyssa Milano and Cedric the Entertainer were just a few of the celebrities in attendance.
October 8th
Featuring sexy runway shows by Aussie Gear La, Levitation Activewear, Courtney Allegra, Amren Tulano, and Shalemar in the early evening, the fourth and final day of the Art Hearts Fashion event concluded with a dazzling, high-octane production by Erik Rosete's own brand, Mister Triple X, as well as Michael Ngo Couture, and Amato Haute Couture. The runway shows were followed immediately by no-holds-barred after party in Taglyan Complex's gorgeous ballroom and magically-illuminated Gardens.