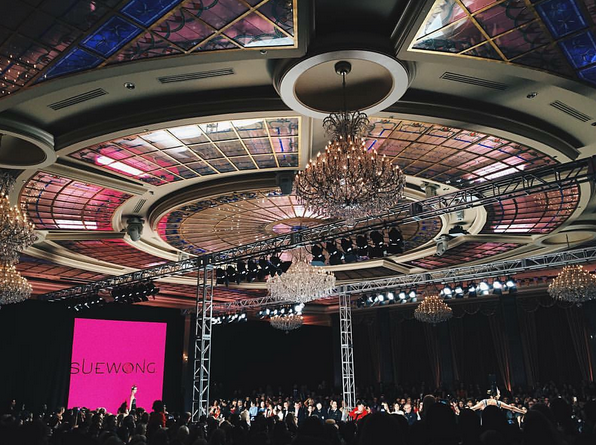 Following another industry-defining New York Fashion Week showing, Art Hearts Fashion returned once again to Taglyan Complex for L.A. Fashion Week's Spring/Summer 2016 showcase, bringing with it the striking looks, energetic performances, famous designers, and celebrity attendees we've come to expect from the hallmark event. Established by designer Erik Rosete and produced by Rosete and ParkerWhitaker Productions, the show also included celebrity artists like Sham Ibrahim, Josef Jasso, Eugene Huffman, Emmanuel Sequoia, Connie Kurtew and Molly Gruninger.
Some of our favorite highlights from the four-day show included:
Sue Wong's Alchemy & Masquerade Collection
Illustrious designer Sue Wong set the tone for the SS2016 Art Hearts Fashion event with her Alchemy & Masquerade Collection, a dark, gothic-inspired show featuring spiky headpieces, sexy dresses, and intricately-beaded gowns. The show began with an introduction by Max Ryan ("Sex and the City 2"), and followed with both The California Assembly and H.H. Prince Waldemar Schaumburg-Lippe (a great-grandson of Denmark's King Frederick VIII) congratulating Wong for her contributions to the city of Los Angeles and the fashion industry, respectively. After Waldemar's son, actor/director/TV presenter Prince Mario-Max Schaumberg-Lippe danced down the runway in a mask and cape to a techno-dance remix of "Phantom of the Opera," Wong's 79-look runway show proceeded to draw stunned gasps and applause from the standing room only crowd.
House of LiJon's Model With Adorable Puppy!
While Lia Mira, the self-taught fashion designer behind House of Li Jon, may have an affinity for metal chains and contemporary style, the highlight of her SS2016 collection on October 5th wasn't a dress, vest, scarf at all. Though it's safe to say that spectators were thoroughly impressed by Li Jon's showcase, it was a tiny brown and white puppy, carried by one of the models, that elicited the biggest response from spectators throughout Taglyan's stunning Grand Ballroom.
Child Cancer Survivor Noa Sorrel Makes Her Fashion Debut
After being diagnose with Hodgkin's Lymphoma and undergoing chemotherapy treatments for over three months in a Texas hospital, 11-year-old Noa Sorrel made her fashion debut during day three of the Art Hearts Fashion event, showcasing a collection of ten looks for a packed house at Taglyan Complex. The show, which drew praise from celebrities like Alyssa Milano and Cedric the Entertainer and received national media coverage, was made possible by the Make-A-Wish Foundation, and featured "warm lively colors that can make anyone smile,  no matter how grey you feel inside." Appropriately enough, Noa chose Katy Perry's "Firework" to play during her showcase.
Stello's Daring "Hotel California" Line
An electric guitar rendition of "The Star Spangled Banner" (a la Jimmie Hendrix), Donald Trump hats, and a bevy of barely-covered bosoms marked Los Angeles-based Michael Costello's Stello line as the rule-breaking designer's "Hotel California" show continued to make waves throughout the industry. Purported to serve as "an artistic representation of the inner turmoil gifted to Hollywood's elite," some of the runway performances required strategically-placed "modesty patches," while sexy playful cocktail, bedroom attire, and a series of form-fitting gold-and-black geometric dresses wowed the audience.
Betsey Johnson Celebrates 50 Years in the Industry
To commemorate her 50th year in the industry, legendary fashion icon and prolific designer Betsey Johnson presented an installation of some of her favorite pieces from five decades in the game. Though the installation only featured six looks—the full show during New York Fashion Week had 54 looks in total—the dresses, shoes, and jackets were an excellent representation of Johnson's fanciful, attention-grabbing style.
Nicole Miller
A favorite designer of celebrities like Angelina Jolie, Jennifer Aniston, Beyoncé, and Eva Longoria, Nicole Miller October 7th runway show lived up to the hype, with a collection of colorful, body conscious women's clothing.