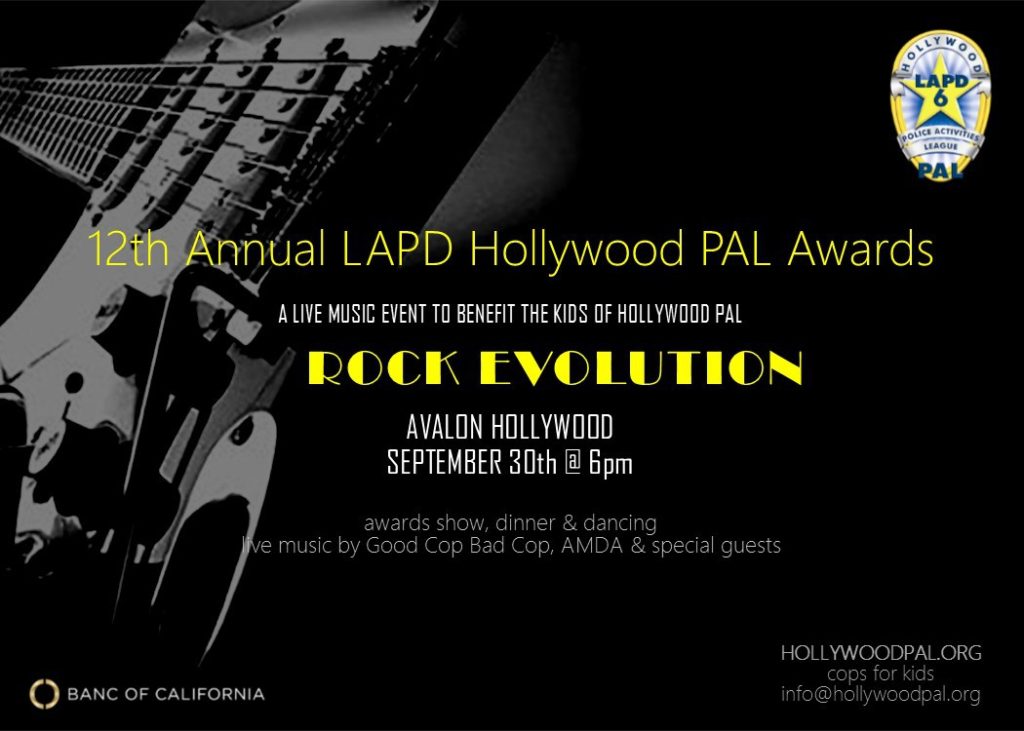 On September 30th, the Hollywood Police Activities League (PAL) welcomed members of the community to the Avalon theater for the 12th Annual Hollywood PAL Awards Gala. Aptly named for ROCK EVOLUTION for it's live performances by the JetLemons and Good Cop Bad Cop and classic-rock themed auction items, the gala helped raise money for PAL programs while honoring those who have helped the Police Activities League through charitable contributions and other forms of support. Taglyan Complex's own Gary Taglyan graciously received the PAL Community Leadership Award, along with Danny Pasqueria and Gerald Travens. The Master of Ceremonies for the ROCK EVOLUTION event was actor Jack McGee (FX's "Rescue Me," "The Fighter," "Moneyball"), a former PAL kid who spoke at length about how the program helped influence his life. Notable attendees included Deputy Chief Beatrice Girmala, Battalion Chief Timothy Kelly, LACC President Renee Martinez, Dan Halden from CD13, former Councilmember Tom LaBonge, Leron Gubler from the Hollywood Chamber of Commerce, and the Taglyans.
The gala was an overwhelming success, and thanks to generous auction bids – Gary Taglyan alone bid $2,500 for a pie made by Police Captain Peter Zarcone – the PAL ROCK EVOLUTION event was able to raise enough money to enroll 550 kids in Hollywood PAL in 2016.
About The PAL Program
The Police Activities League's mission is to build trust between cops and at-risk, inner-city youths through camps, events, and community programs. Because many children in Los Angeles grow up surrounded by gangs, drugs and violence, the PAL is crucial to steering these impressionable youngsters away from negative influences and teaching respect for law enforcement officials.