Published April 19, 2019
Bridal Fashion Week just wrapped up in New York, taking place April 11-14 2019 and coming in strong to inspire brides who are planning an upcoming wedding.
Providing fresh bridal looks for the 2020 spring and summer seasons, both established and emerging designers were on their "A" game. This season's bridalwear is truly dazzling.
At Taglyan, we pride ourselves on understanding the fashion industry. As the premier venue for many of Los Angeles' major fashion events, we have been fortunate enough to get to know many designers, and we highly respect the craft of bridal design.
As for Bridal Fashion Week last week—as well as designs for Spring/Autumn 2019 that were revealed earlier this year and late last year, there we have definitely noticed some trends. Take a look at some of the statement-makers for bridal fashion 2019-2020. These are our favorite wedding dress trends.
High Necks Reign
One of the most elegant standouts this bridal season has been high necklines. They've been making appearances all over the runways and at weddings everywhere—and they're a welcome change from deep V-necks, which tend to only work well with certain body types. Designer Madeline Gardner has said that a high neckline is "a bride's most sophisticated option."
Another benefit to these high-necked wedding dresses is that less jewelry is required when a bride wears this style.
There's also a wide variety of high-neck styles for brides to choose from, including graceful boat necks, sexy halters, jewel or "crew" necks, turtlenecks and mock turtlenecks, standing collars, Peter Pan collars, and keyhole necklines. Each of these types of collars go beautifully with many different gowns.
Designers who have presented stunning high-neck bridal gowns for 2019-2020 include Amsale, Dan & Corina Lecca, Allison Webb, Cristina Ottaviano, Romona Keveza, Naeem Khan, Temperley London, Sareh Nouri, Elizabeth Fillmore, Lela Rose, and many more.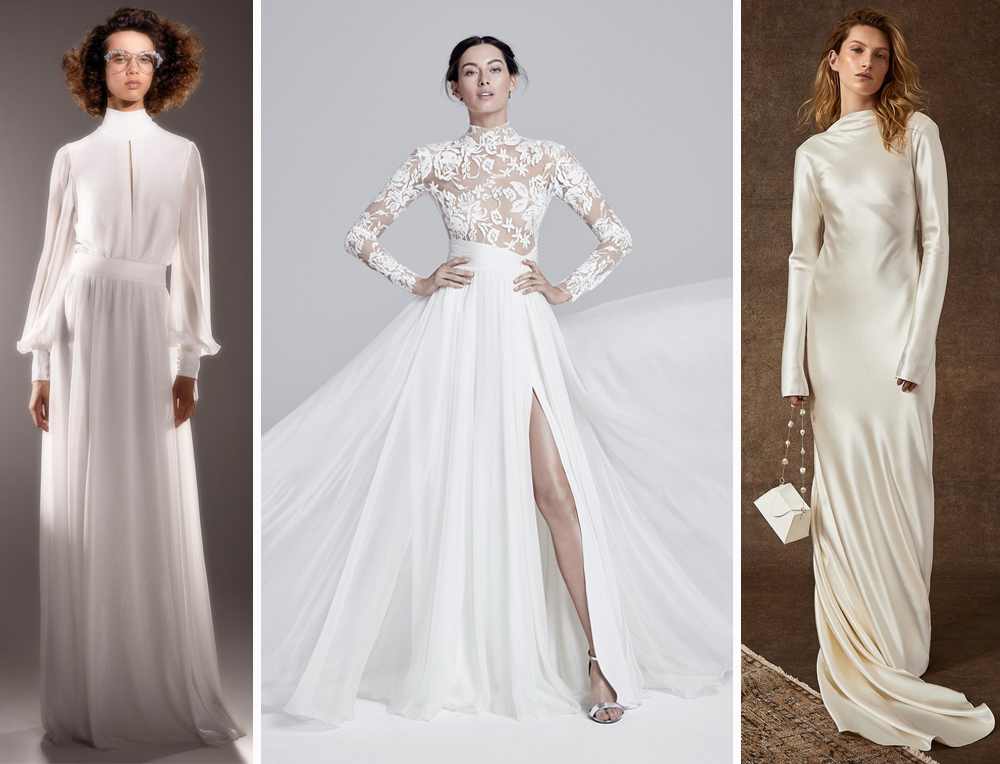 Images (L-R): Viktor & Rolf | Suzanne Neville | Lara Jade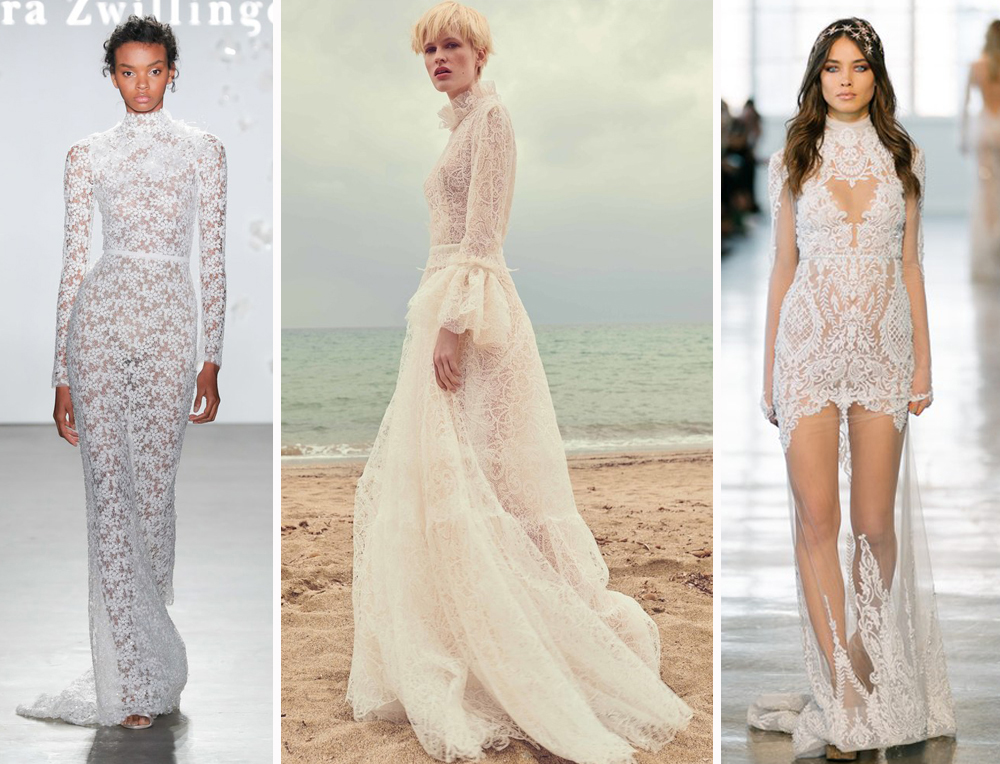 Images (L-R): Dan Lecca | Costarellos | Berta
Blushing Brides
Not all brides want to wear white—in fact, many don't, but they still want to wear a color that radiates romance and femininity. A beautiful shade for this is a peachy blush, which was certainly in the spotlight this past week, and makes for one of the sweetest wedding dress trends. This subtle color looks gorgeous on almost any fabric, with any hair tone, and with either daytime or evening makeup.
Whether incorporating blush tones into the entire gown or just in accents, such as the veil or a cape, it helps create a truly lovely bridal look.
Some of the most memorable blush tones have been seen in designers Ines Di Santo, Reem Acra, and Vera Wang.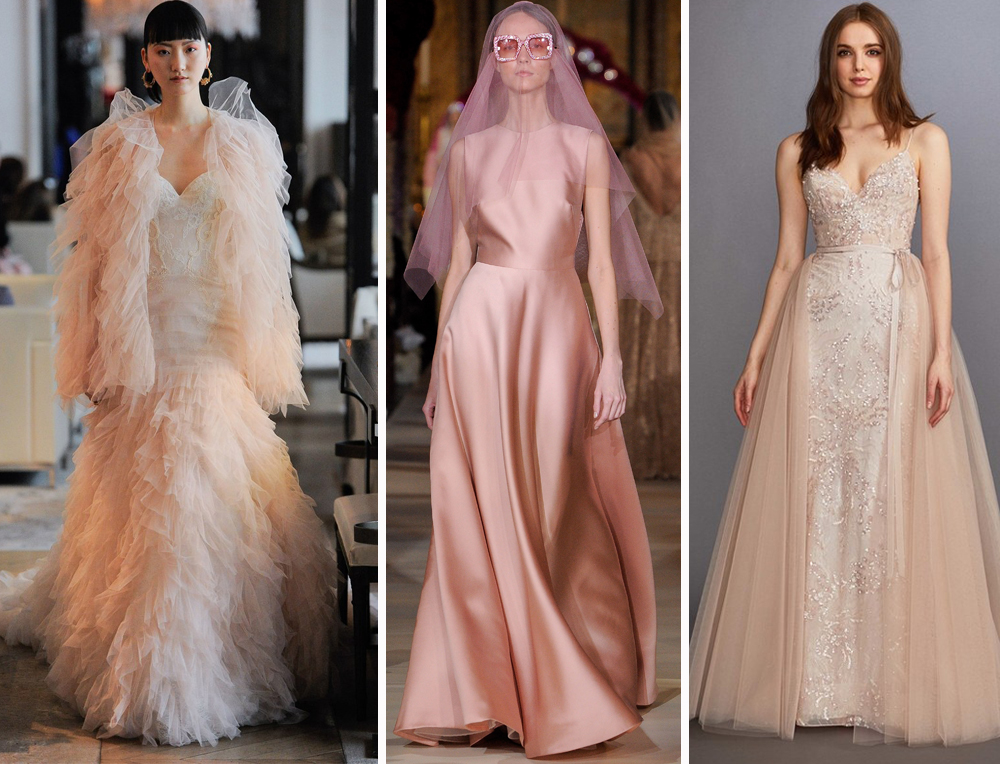 Images (L-R): Ines di Santo | Reem Acra | Lazaro
Puffed and Perfect
There have been so many off-the-shoulder puff sleeves this season that we can't even keep count. Nostalgic of the 1980s and early 1990s yet still modern, this style is gaining major popularity. As we said, many designers have embraced the romantic, oversized, off-the-shoulder puff sleeves—but the standout designers include Viktor & Rolf, Anne Barge, and Lela Rose.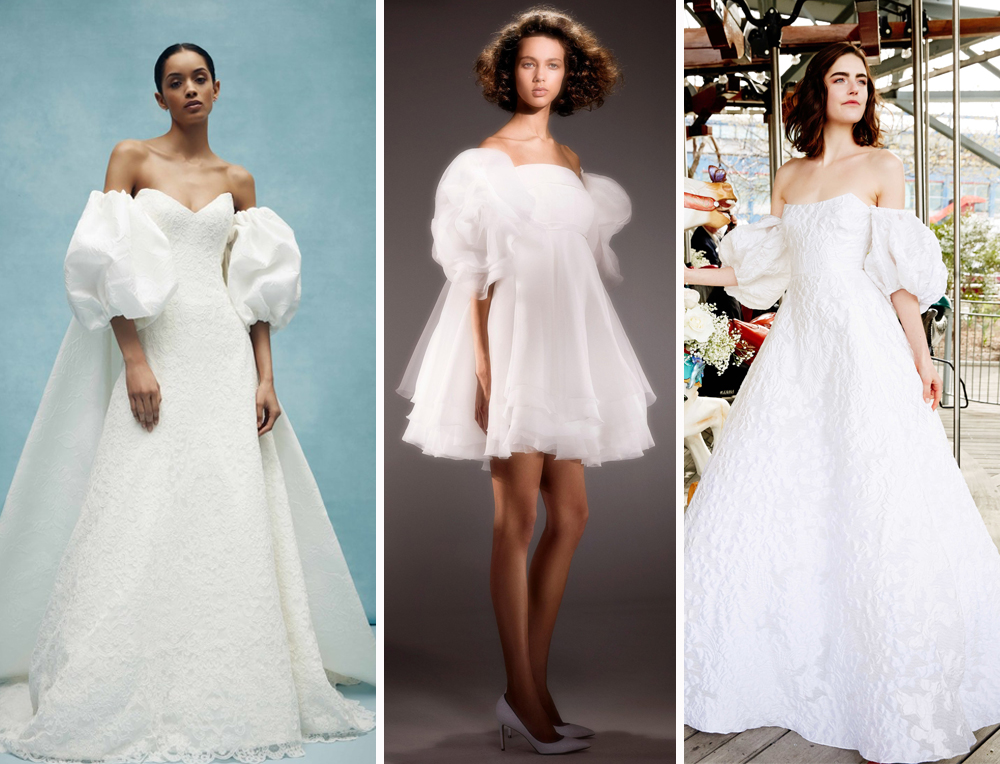 Images (L-R): Anne Barge | Viktor & Rolf | Lela Rose
Mod-Tastic
Since late 2018, we have seen a rise of mod wedding dresses—inspired from the style sensation of the 1960s—all over the place. This wedding dress trend is both highly chic and sweet, featuring elements from the past that are still striking.
Designers who have pulled from the mod style include Viktor & Rolf, Monique Lhuillier, Danielle Frankel, Alexandra Grecco, and Rita Vinieris.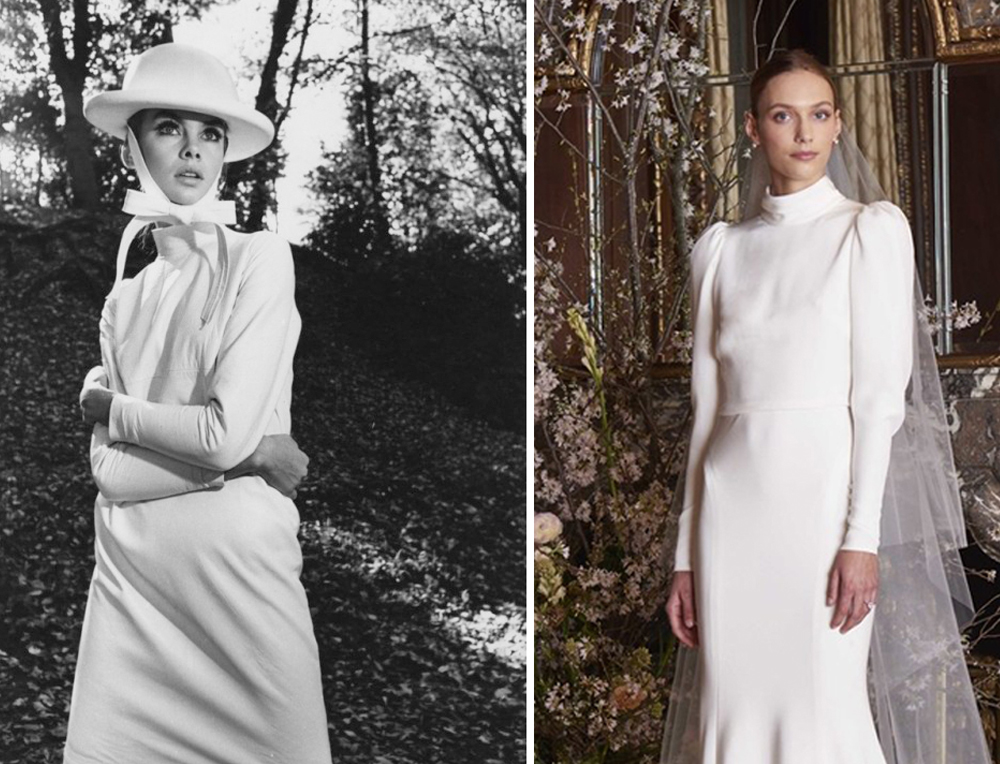 Images (L-R): They Roared Vintage | Monique Lhuillier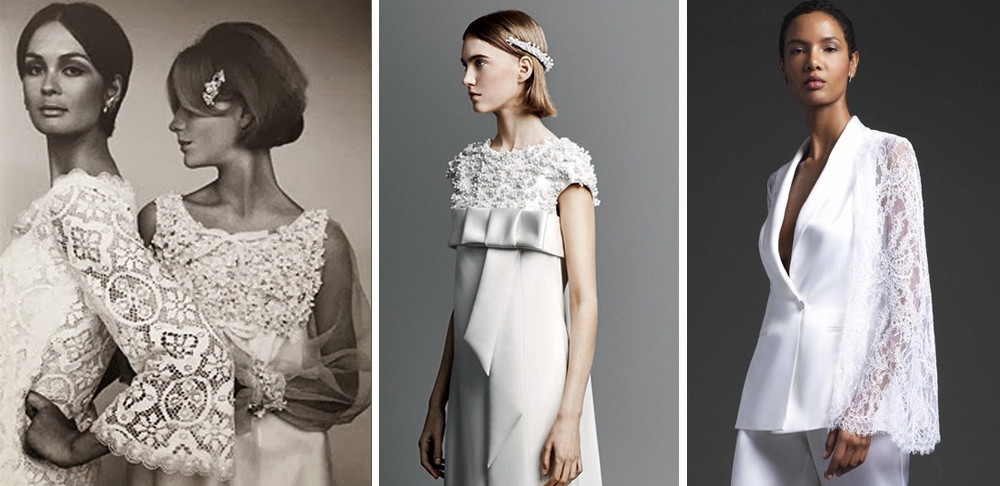 Images (L-R): They Roared Vintage | Viktor & Rolf | Cushnie
Hello, High-Low
If you have fabulous legs—or you just really want to show off your bridal shoes—consider one of the biggest wedding dress trends of 2019-2020: the high-low dress.
Danielle Frankel, Oscar De La Renta, and Monique Lhuillier all featured high-low dress designs, and each is stunning and unique in its own way. This particular trend is expected to be seen even more for Autumn 2020.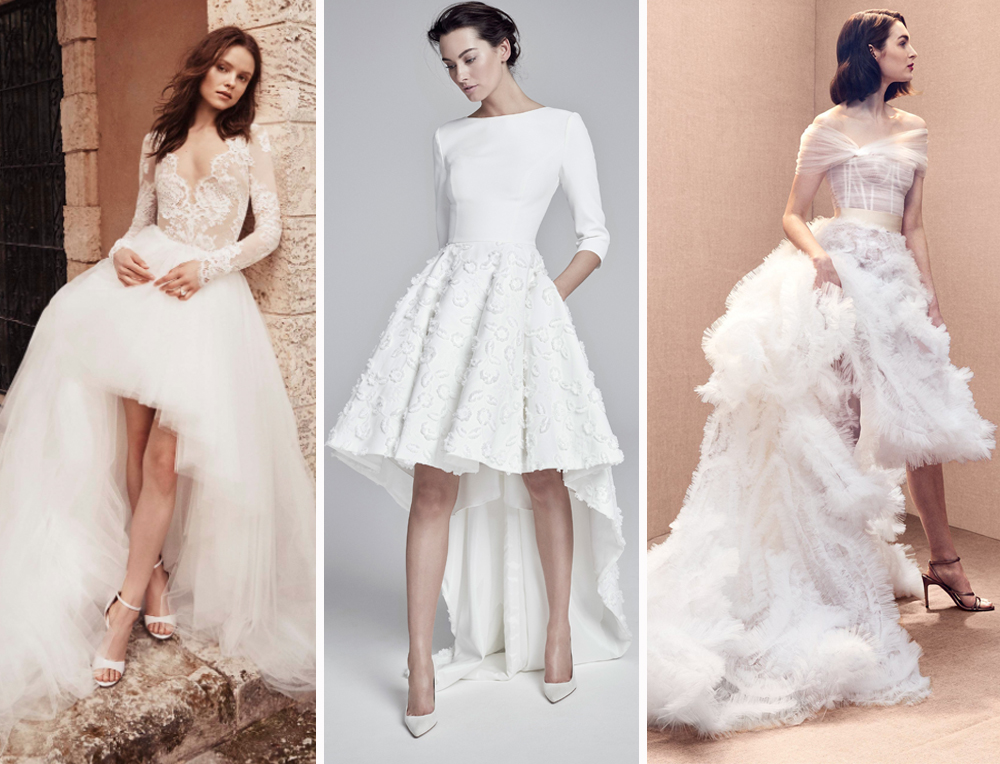 Images (L-R): Monique Lhuillier | Suzanne Neville | Oscar De La Renta
Markle Still Rules
"Meghan Markle Mania" isn't going anywhere anytime soon, as evidenced by the sleek, conservative silhouettes that have been on the runways ever since her Givenchy wedding dress was first revealed. Last week in New York was no exception. The simple chic of Meghan's crisp design is still being transformed and re-created by many fashion houses and designers such as Suzanne Neville and Nouvelle Amsale, and is a wedding dress trend that is expected to remain for a while.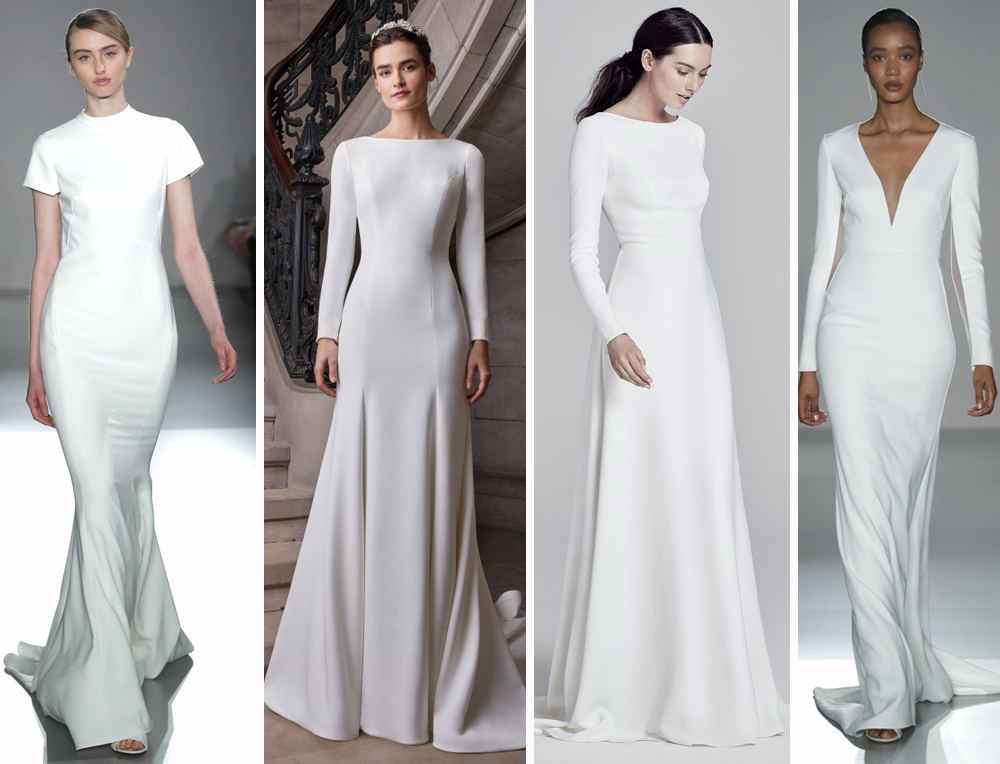 Images (L-R): Nouvelle Amsale | Sareh Nouri | Suzanne Neville | Nouvelle Amsale
High Slits For A Little Skin
Although Meghan Markle's influential wedding gown has caused many brides to choose the conservative route, some brides just have to show a little skin—and those brides will love the "high slit" wedding dress trend that made a splash last week. And these aren't your granny's skirt slits, either. These are high slits that really make a statement. Designers Stockton Johnson, Reem Acra, Theia, and Berta models all rocked some serious thigh on the runways.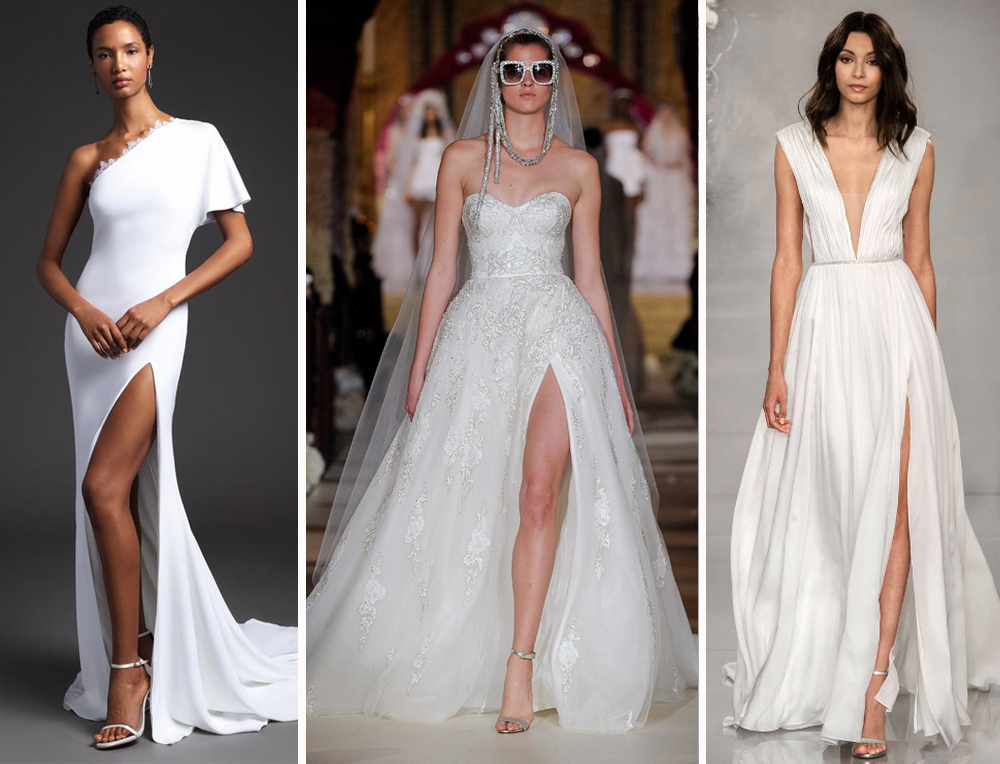 Images (L-R): Stockton Johnson | Reem Acra | Theia
Feather Frenzy
Depending on how they are utilized, feathers can be either very festive or very dreamy. When used in "party mode", they can be ideal for a bride's reception dress. Or, when used more delicately, they can also make stylish additions to the main ceremony dress.
Feathers in fashion has always ebbed and flowed over the seasons, and it looks like they're back for 2019-2020. Designers Oscar De La Renta, Naeem Khan, Zuhair Murad, and Jenny Packham have all used feather touches for their newest designs.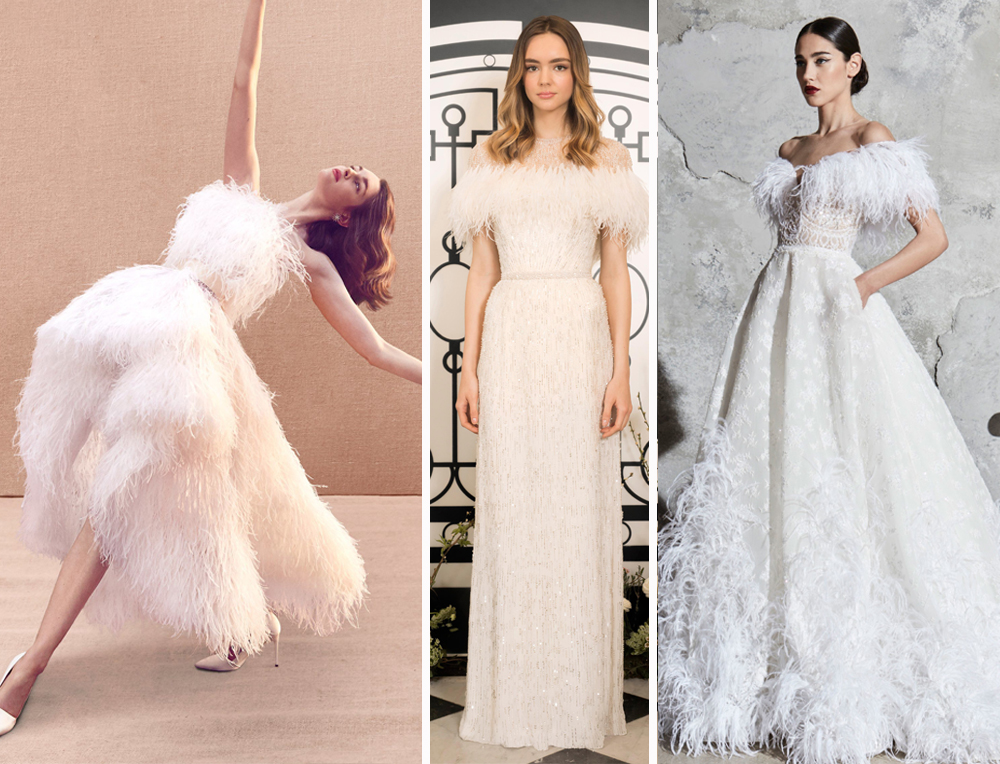 Images (L-R): Oscar De La Renta | Jenny Packham | Zuhair Murad
Sexy Short Bridal Suits
As it's becoming the norm for brides to have multiple outfits for their weddings and various pre-wedding events, there's no longer one single look they have to stick to. This is where the mini-dresses, bridal jumpsuits, and two-piece outfits are making a lot of headway.
This season, one of the biggest runway wedding dress trends is short bridal suits. These super-chic, smashing-looking designs are perfect for a bridal event or even the reception. Designers Reem Acra and Ines Di Santo jumped on board for this fun style.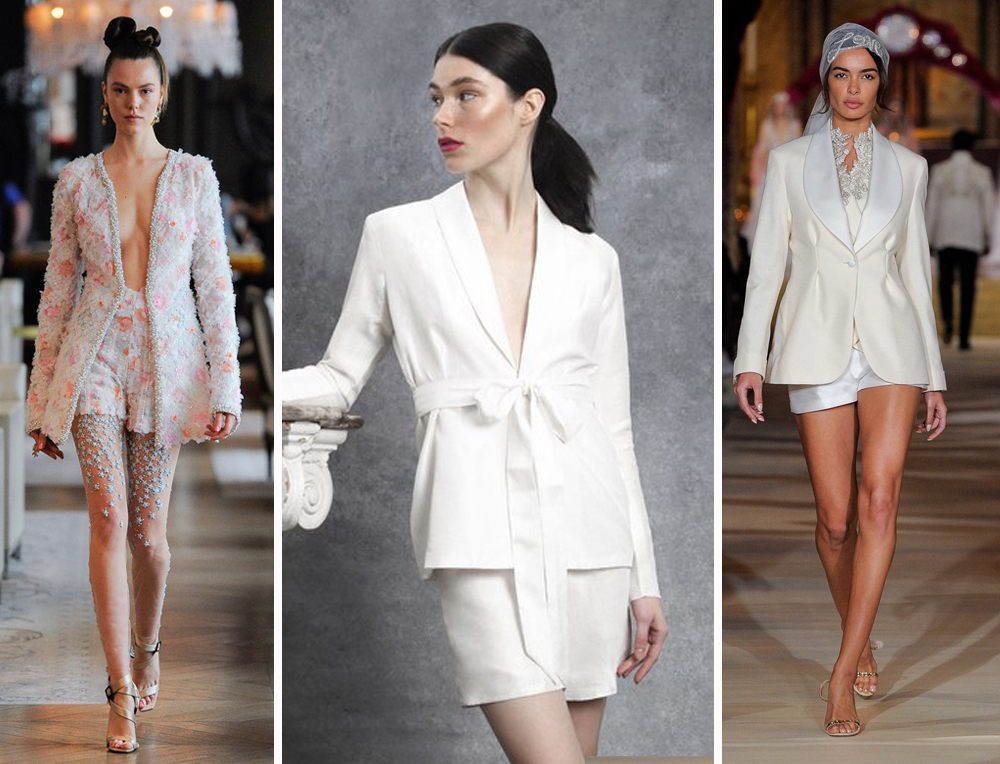 Images (L-R): Ines di Santo | Sahroo Bridal | Reem Acra
Bustles are Back
There's nothing more fairytale than a gown with a bustle in back—so if you're looking for your ultimate princess dress, you're in luck, because they're very trendy this season. The most standout bustles we saw came from Viktor & Rolf and Carolina Herrera.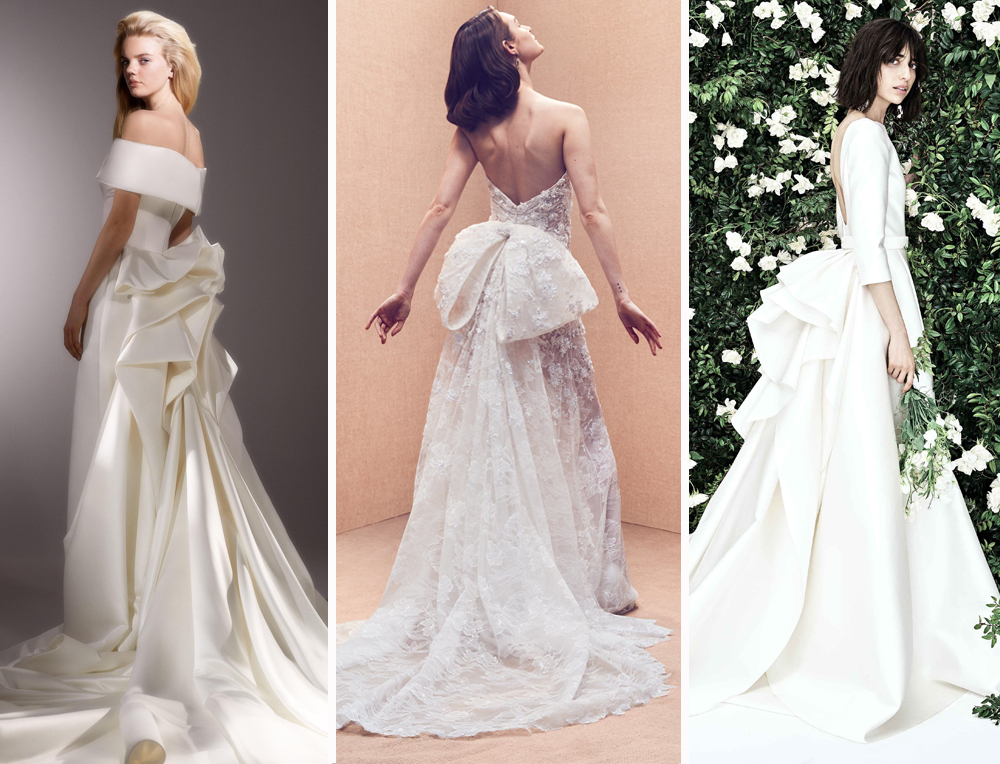 Images (L-R): Viktor & Rolf | Oscar De La Renta | Carolina Herrera
Capes 'n Drapes
It seems that with the variety of Meghan Markle-inspired designs and the comeback of the bustle, everyone wants to feel like a royal. Fashion that's fit for the highest of society seems to be on the mind of brides everywhere—and there's one more big trend for 2019-2020 that just radiates royalty: capes and draped fabrics.
Designers including Oscar De La Renta, Jenny Packham, Berta, Carolina Herrera, and Viktor & Rolf all showed off stunning designs which featured capes or trailing fabrics that simply ooze royalty. The result? Anyone can feel regal in the right outfit.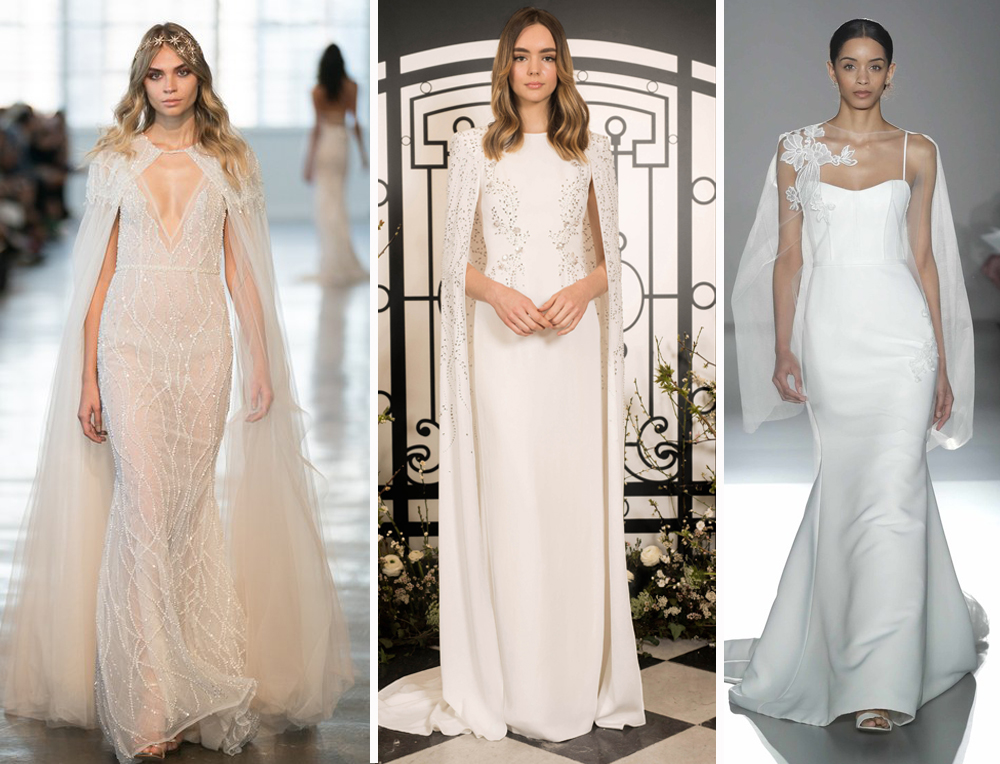 Images (L-R): Berta | Jenny Packham | Nouvelle Amsale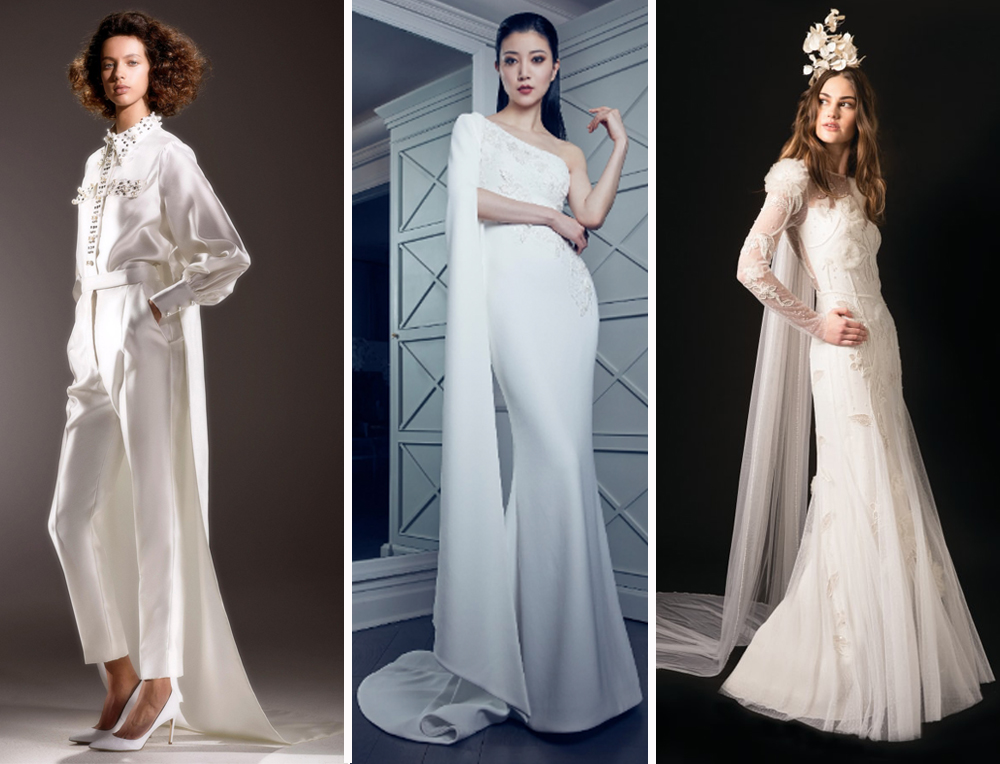 Images (L-R): Viktor & Rolf | Romona Keveza | Temperley London

So, there you have it: the hottest wedding dress trends, straight from the runways, for the 2019-2020 season. Which ones are your favorite? At Tagylan, we prefer anything that feels fit for royalty, because that's how everyone should feel on their wedding day. Glamour, weddings, and fashion are our industry, and our spectacular ballroom has made our clients feel exactly that on their big day, and we can do the same for you. If you're interested in booking our wedding venue for your own wedding, please don't hesitate to contact us for more information. We're excited to hear from you!

Trending Wedding Dresses For 2019

Published August 2, 2018
Our team at Taglyan makes it a point to stay on top of industry standards and what's trending in the world of bridal haute couture. This means that we keep our eyes not only on what is trending right now, but will be in vogue in the future. With that in mind, we're going to take a look at what are sure to be some of the hottest wedding dress trends in 2019.
After carefully looking over dozens of the industry's most outstanding designers, here are our predictions for what we believe will be the biggest bridal trends next year (lace, lace, and more lace!). It's also quite obvious that many designers are taking inspiration from Meghan Markle's dress, so that is to be very expected as well.
If you're getting married in 2019, definitely take a look at this list.
"Augusta" by Theia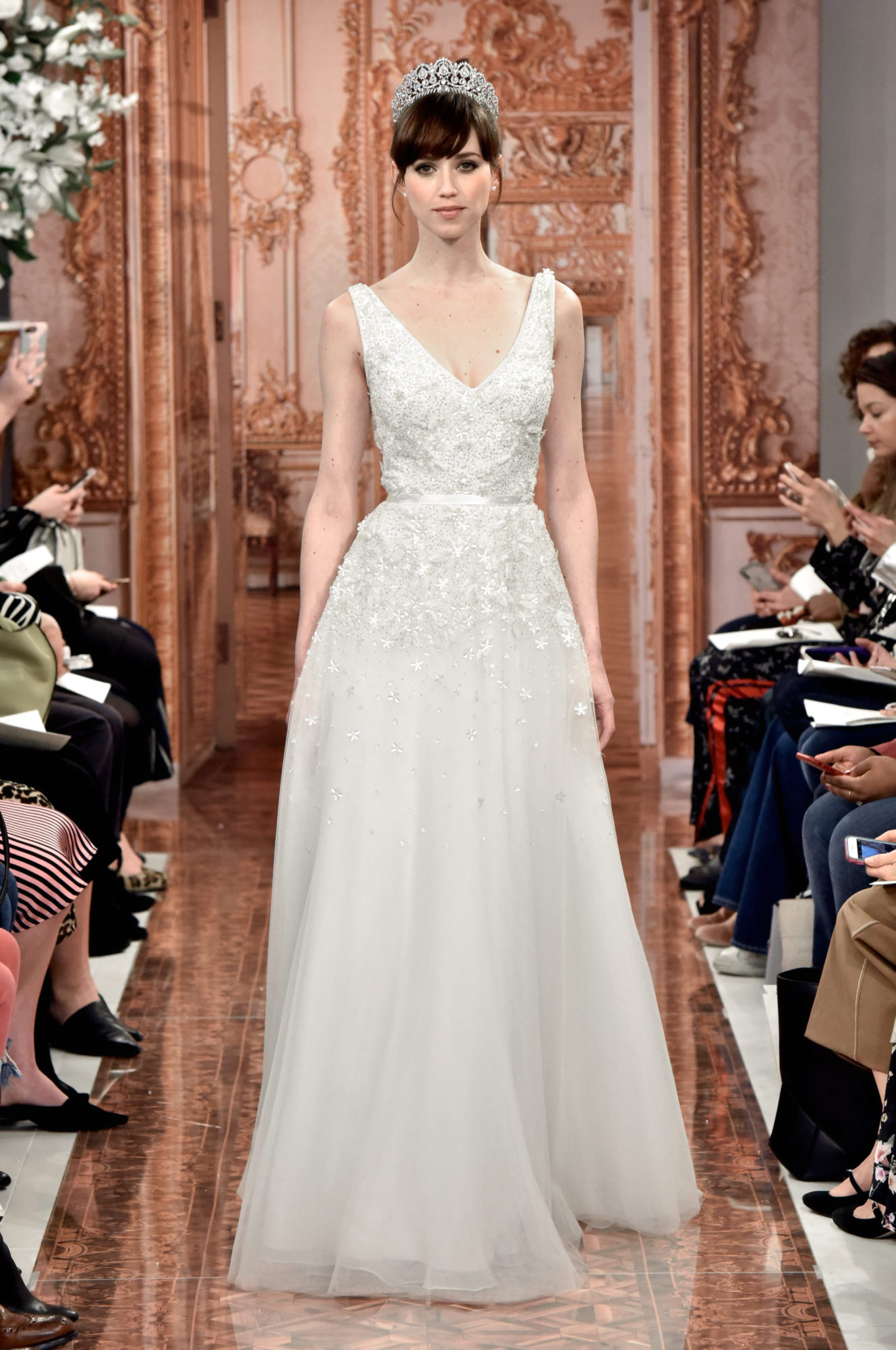 An exquisite V-neck gown by the unrivaled, New York-based Theia. Its lace top flows gorgeously into the skirt and train of the gown.
"Majesty" by Monique Lhuillier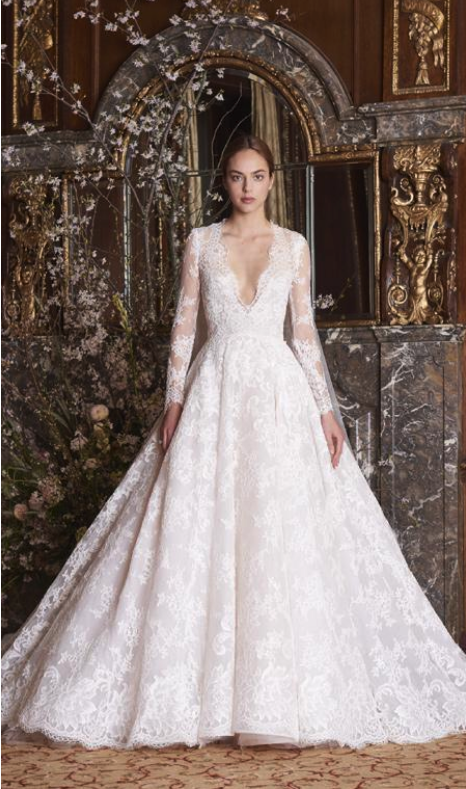 Here we can see some aspects of Meghan Markle's dress with the full sleeves that Monique Lhullier chooses to use. The deep V-neck takes a plunge towards the simple waistline, which flows into an A-line silhouette.
"Long Sleeve Crepe" by Justin Alexander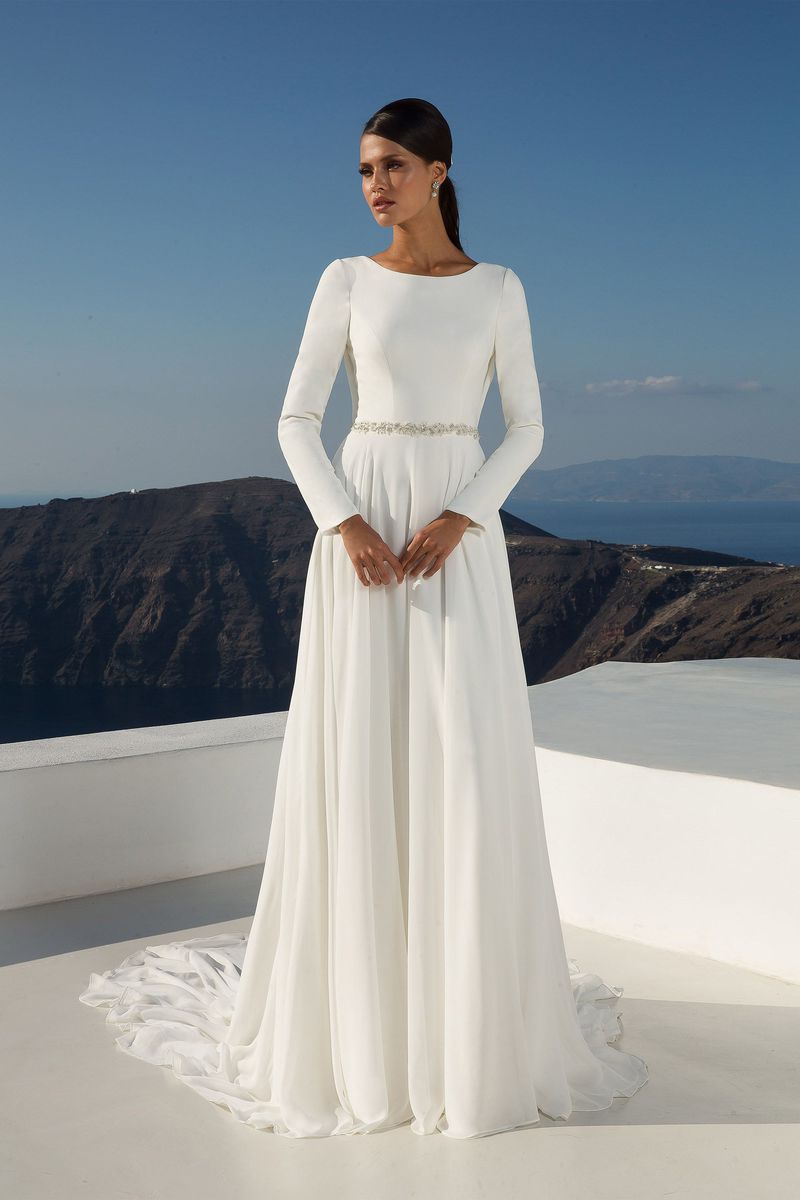 Justin Alexander also rides the royal wave here with a boat neckline with long sleeves. The waistline draws subtle attention with beading, and leads elegantly into the sheath-style silhouette.
"Lisa" by Morilee by Madeline Gardner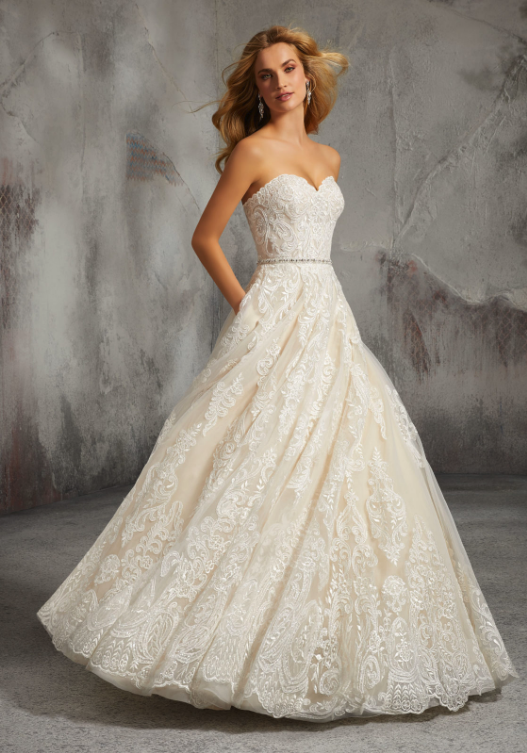 This ivory and vanilla gown features a strapless neckline with beads at the waistline. The full A-line skirt adds a pinch of fairy dust, which will add an element of enchantment for your wedding look.
"Sweetheart Lace" by Justin Alexander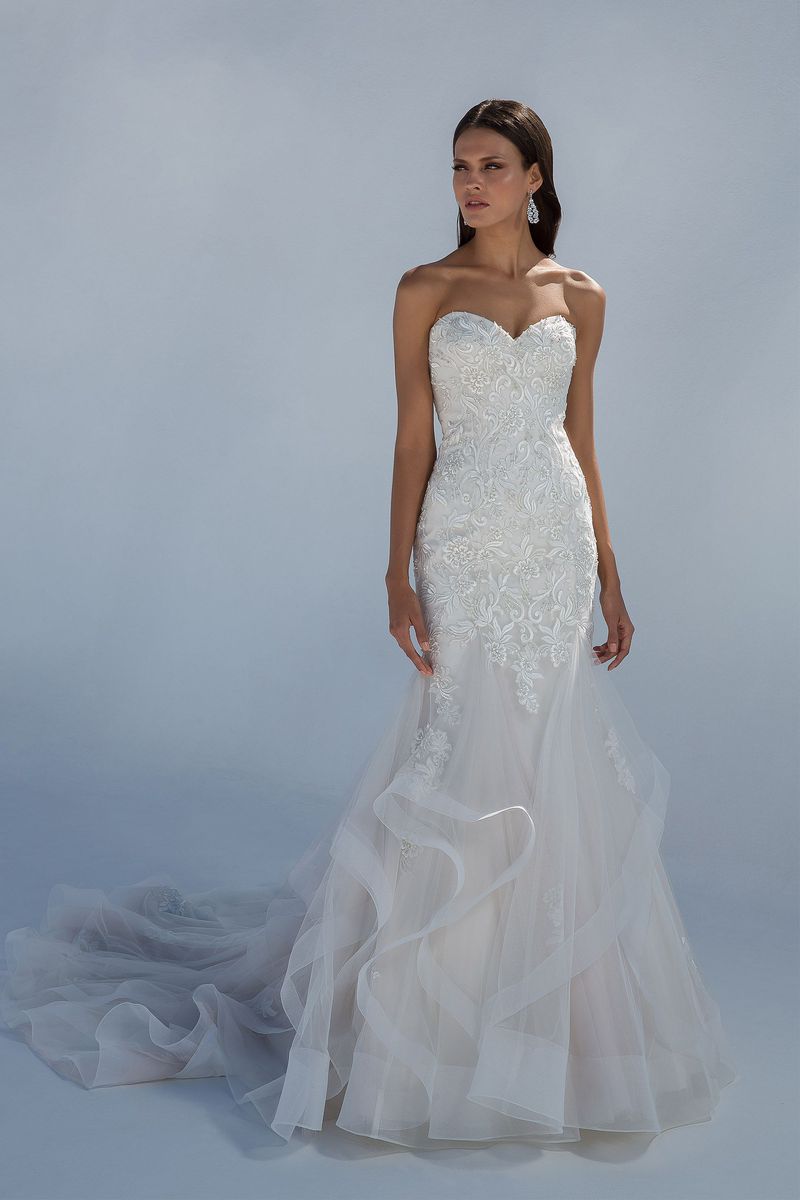 This dreamy mermaid silhouette extends into a whimsical train. The lace appliques cascade in layers and draw attention to the figure by keeping the waistline simple.
"Josephine" by Monique Lhuillier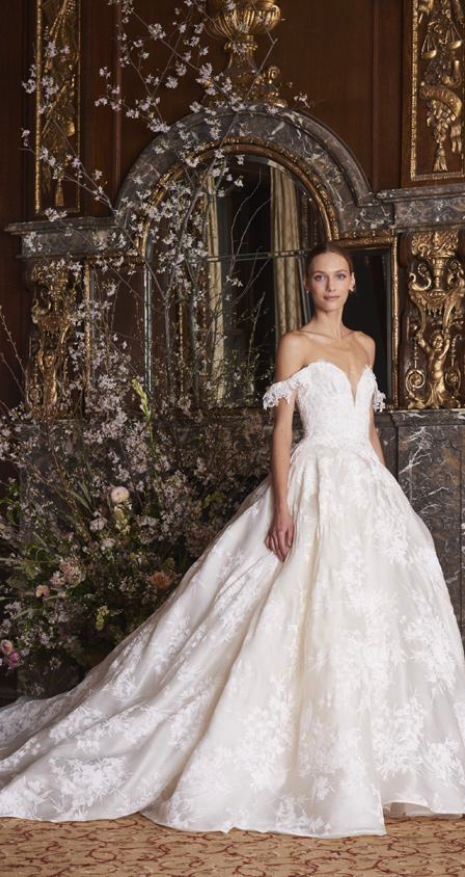 This off-the-shoulder bodice floats flawlessly into the lace-drenched ballgown. This mesmerizing silhouette is guaranteed to make you the star of the show.
"Lindsey" by  Morilee by Madeline Gardner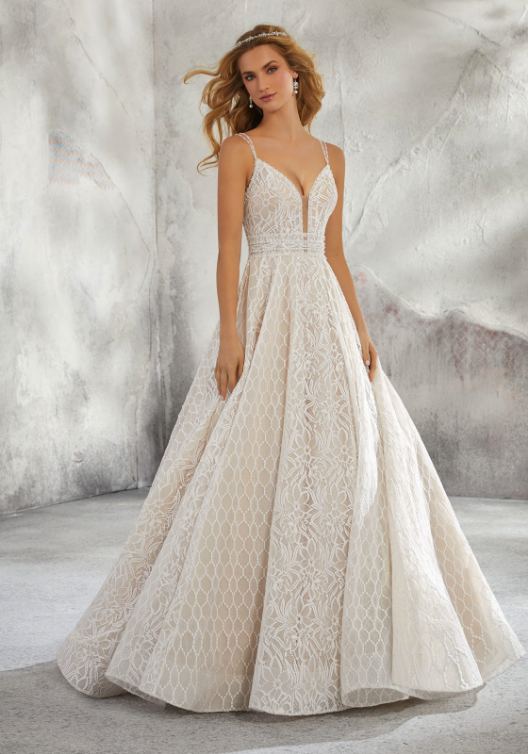 This ivory-and-crème spaghetti strap dress features a satin bodice and waistband that tightly contours your body.  The A-line silhouette is decorated with patterned embroidery, making it a truly unique wedding dress.
"Madalyn" by Theia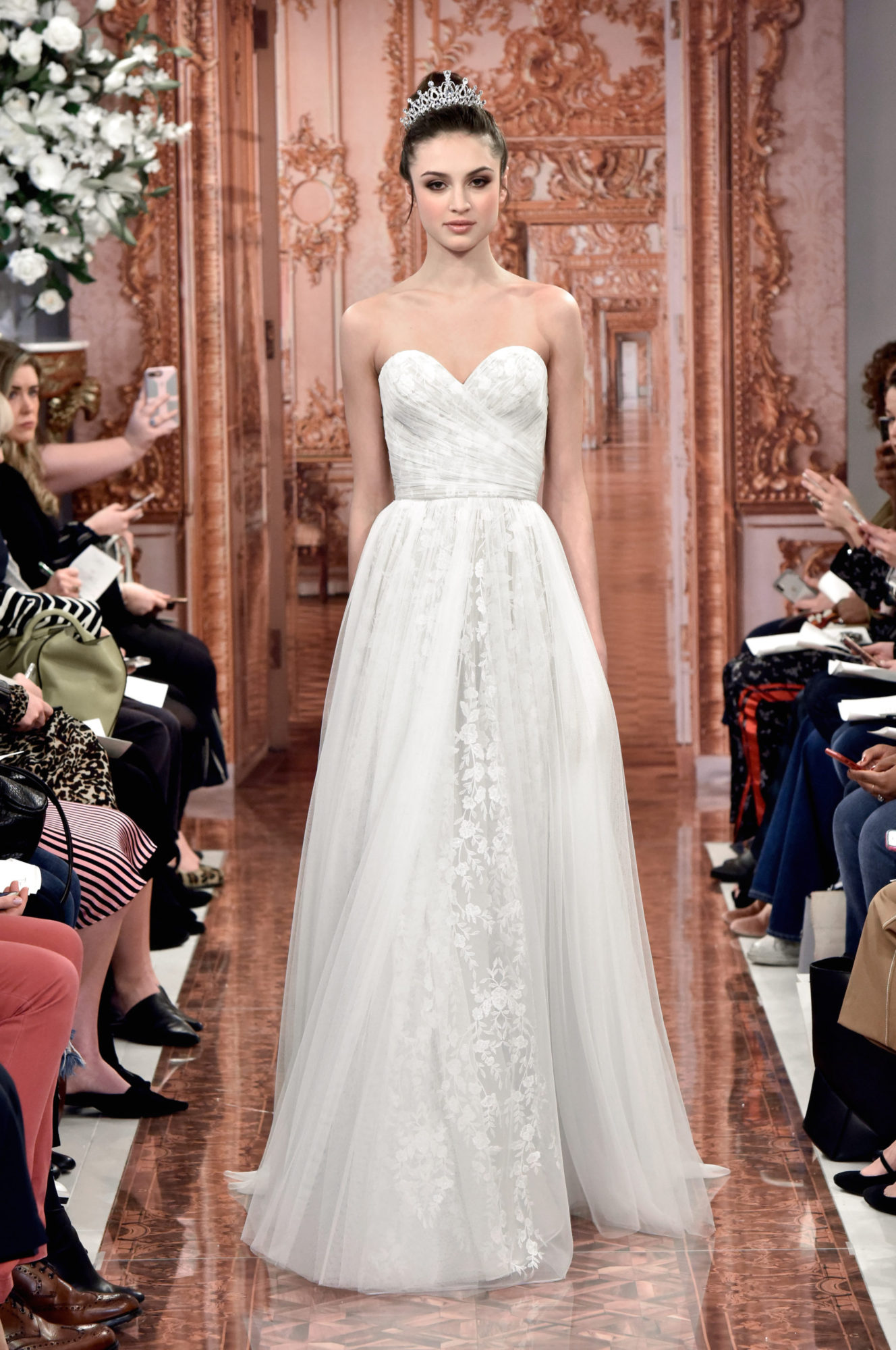 This sweetheart bodice by Theia just radiates sophistication. The tidy waistline extends into a ballgown silhouette fit for any princess.
"Lace Trumpet" by Oleg Cassini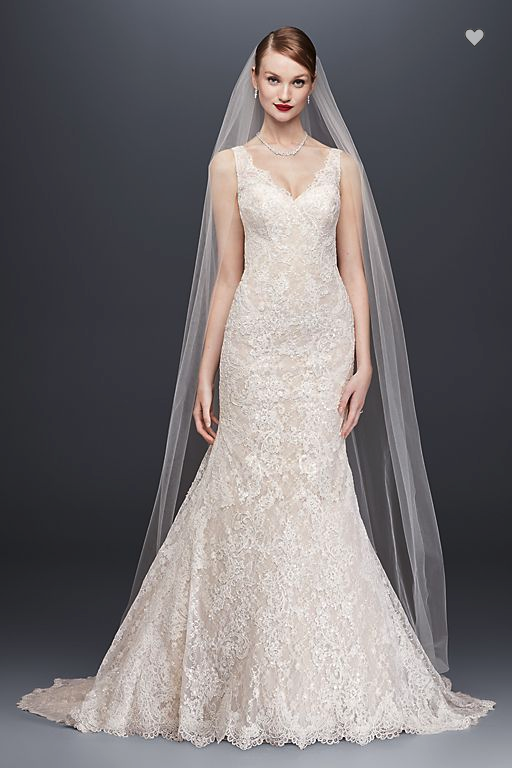 This champagne-and-ivory halter neckline wedding dress by Oleg Cassini is perfection. The seamless waistline drops exquisitely into a mermaid silhouette, elongating the body in a flattering shape.
"Illusion" by Justin Alexander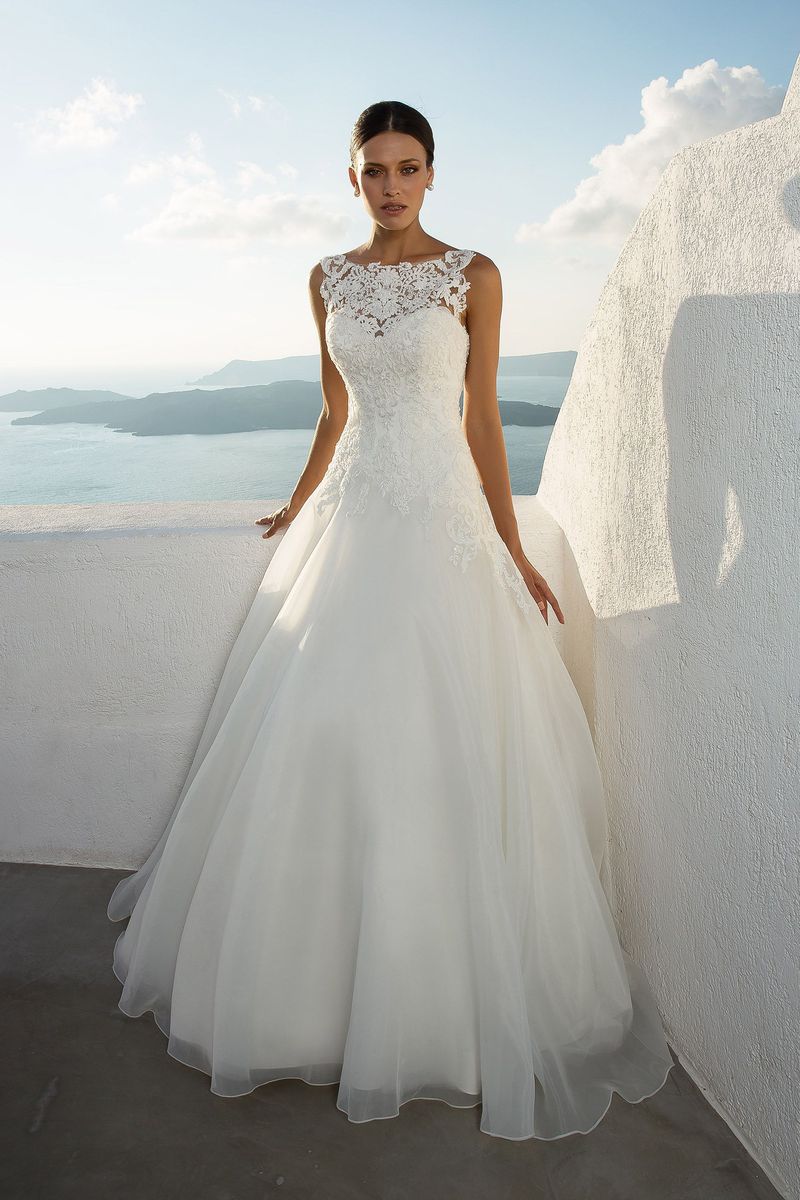 This lace boat neck provides a wonderful complement to the strapless bodice, and the prim lace continues on to fade gracefully into an A-line skirt silhouette.
These stunning wedding dresses are perfect for any bride, and we fully expect to see them at our wedding venue in the near future. The right wedding dress can make your evening magical. By staying up to date on the latest wedding dress trends, our industry professionals at Taglyan are always able to offer our clients the enchanting experience they've always wanted.