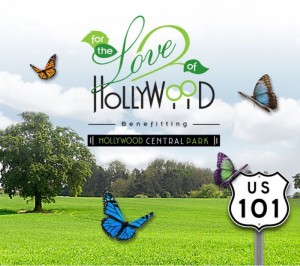 Despite L.A.'s glorious year-round weather and sun-worshiping lifestyles, calm green spaces in Hollywood are hard to come by. A dedicated group of local business owners, politicians, educators, and philanthropists working to change that meet at Taglyan Complex on the first Thursday of every year for the Friends of Hollywood Central Park's "For the Love of Hollywood" Gala, to honor outstanding contributions to the park plan, renewing interest in the idea of a Hollywood Central Park and generating new support.
The Friends of the Hollywood Central Park (FHCP) is a non-profit organization that officially formed in 2008 to raise funds and promote community and political support for the Hollywood Central Park plan, as originally envisioned by local architect Edward V. Hunt nearly three decades prior. This visionary plan proposes making use of the air space above the 101 freeway between Hollywood Blvd and Santa Monica Blvd by building a cap over the recessed freeway, creating a 44 square acre space at street level for a community park.
This year's "For the Love of Hollywood" gala marked two major breakthrough events in the timeline of the park plan. In the fall of 2013, the FHCP and the City of Los Angeles were jointly awarded a $200,000 sustainability planning grant toward development and construction of the park. On January 9, 2014, the day of this year's event, President Obama designated five Los Angeles neighborhoods as Promise Zones as part of an initiative to work with communities in creating local jobs, stimulating economies at the ground level, and expanding access to opportunity. Council Member Mitch O'Farrell shared this news with the gala audience that evening. The neighborhoods of East Hollywood, Koreatown, Westlake, Pico Union, and Hollywood were included in this iniative's plan for Los Angeles, and the park project's revitalizing effect is certain to be a major part of the promised economic growth.
The FHCP's Real Stars of Hollywood Awards for exemplary commitment and support for the park were presented to Assembly Member Mike Gatto, California State Parks Director Maj. Gen. Anthony Jackson, Hollywood Beautification Team founder/director Sharyn Romano, and Executive Director Hasan Ikhrata.The Gala was hosted by Culture Clash founder and inaugural FHCP supporter Richard Montoya, who welcomed the crowd with numerous anecdotes about his life in Hollywood and stories of other residents' contributions and experiences.
The Friends of Hollywood Central Park are devoted to promoting service to the community, social and environmental responsibility, and sustainability through the park project and in the process of the park's construction. Over a 10 year period, this landmark infrastructure project will eventually create more than 40,000 new jobs with the city of Los Angeles and other park-related entities, enriching the local economy and empowering disadvantaged communities to thrive and grow.