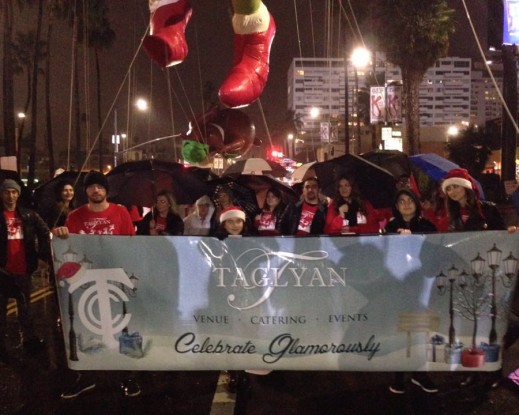 The rainy weather didn't stop the Taglyan family and Taglyan Complex's team of volunteers from walking the three miles down Hollywood Boulevard with the Grinch (from "How The Grinch Stole Christmas") balloon floating over their heads as part of the 83rd Annual Hollywood Christmas Parade. Though some of the biggest names in entertainment – including Stevie Wonder (who served as Grand Marshall), Earth, Wind & Fire, Estelle, Jesse McCartney, HEART, Montel Williams, Sugar Ray's Mark McGrath, celebrity hosts Erik Estrada and Laura McKenzie, and of course, Santa – were on hand for the festivities, the Hollywood Christmas Parade's primary function is to raise money and awareness for the Toys For Tots Foundation, which gives presents to needy children during the Holiday Season. In recognition of his outstanding contributions to the 2014 Toys For Tots campaign, both as an individual and on behalf of Taglyan Complex, the United States Marine Corps Reserve also presented Gary Taglyan with the Commander's Award at a corresponding awards banquet.
About Toys For Tots
Founded in 1947 by Marine Reservist Major Bill Hendricks, the Toys For Tots Foundation has collected and distributed over 102 million toys (valued at $750 million dollars) to needy and impoverished children from 1991 to 2012. In that same time period, the Foundation has provided over $10.5 million in promotion and support materials which enable local Toys For Tots Coordinators to conduct effective local and regional campaigns. According to the Mission Statement located on the Toys For Tots website, the goal of the Foundation is:
To deliver a message of hope to millions of needy children each Christmas through the Toys For Tots program. By being excellent role models and setting an example for others to emulate, Marines, through Toys For Tots, perform passive mentoring. Economically disadvantaged children who receive toys through the Toys For Tots program have an opportunity to observe first hand how young men and women, just like themselves, have achieved success. Youngsters readily recognize that Marines achieve their success through adherence to the highest standards of discipline, grooming, patriotism, physical fitness and moral character.