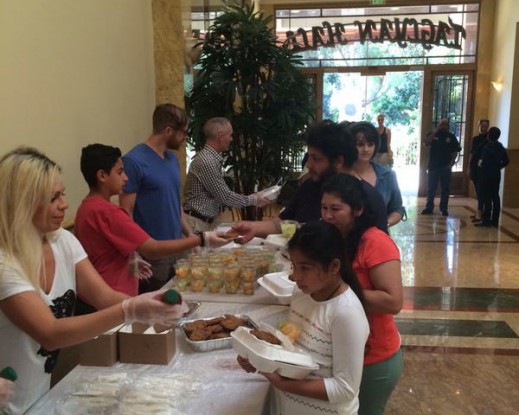 "My family, we've always been big on giving back to the community with what we can," Gary Taglyan told a local reporter as throngs of needy individuals waited to be served a free Thanksgiving meal at Taglyan Complex. "This is probably the smallest thing we could do for Thanksgiving."
Though the event marked the first time Taglyan has hosted such a charitable holiday feast, an estimated 500 people – the majority of whom, sadly, were children – lined up to receive generous helpings of chicken, mashed potatoes, gravy, corn, peas, macaroni and cheese, mixed fruit, and chocolate chip cookies. In addition to local volunteers from the Boys and Girls Club of Hollywood, the Los Angeles Police Department Hollywood Police Advisory League, My Friend's Place, the Salvation Army, Visionary Youth Center, and the Covenant House of California and Los Angeles Hollygrove, Christine O'Donnell from Fox 11 News and Los Angeles City Councilman Mitch O'Farrell were on hand to help fill plates and talk with members of the community.
"Gary and the Taglyan family are extremely generous. They are great partners and philanthropists in Hollywood," Councilman O'Farrell said, praising the continued efforts of the Taglyan's to better their community through fundraisers and by partnering with local organizations that benefit those in need. "One of the hallmarks of being an Angeleno is you create new family; with these agencies participating I think a lot of these families can sit down with each other and have a great meal in a healthy environment."
The Taglyan family has always been big on giving back to the community with what we can.
The Taglyan family not only gave disenfranchised families an opportunity to participate in one of America's favorite holidays, they also invited guests to dine in Taglyan Complex's beautiful banquet hall. There, attendees were treated to a special Thanksgiving speech from Councilman O'Farrell, a hilarious performance by Magician Dennis Forel called "The Balloonacy of Dennis Forel," and arts and crafts for the younger children.