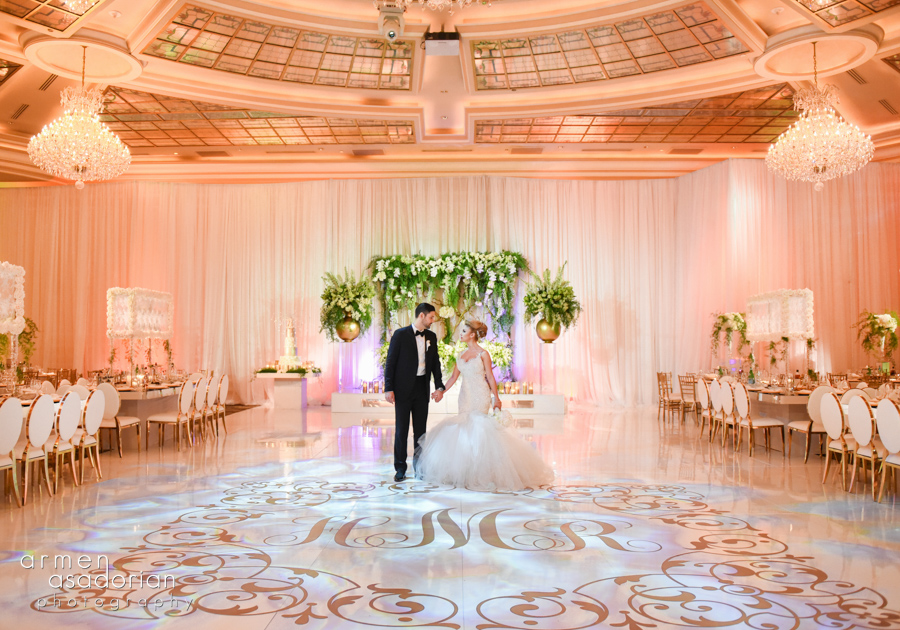 The brides that choose to celebrate in Taglyan Complex's beautiful Los Angeles wedding venue are some of the most gorgeous and fashionable women in the world, and our goal is to match their elegance by making every exquisite wedding ceremony or stunning reception look like it's been torn from the pages of a bridal magazine. To help our brides stay on point in the New Year, the coordinators at Taglyan have identified the following can't-miss wedding trends of 2016:
Metallics
Best used to accent rich colors like deep blues and lush reds, metallics can be appear as eye-catching jewelry, on tables as copper mugs, as rose gold icing on pristine white wedding cakes, and in hundreds of other conspicuous and inconspicuous places. If employed correctly, these brilliant additions can add elements of whimsy and elegance to any wedding celebration, but beware – too much metal can make your reception look gaudy or overtly futuristic. When it comes to metallics, take our advice: less is definitely more.
Soft Lighting
Vibrant LED lighting still reigns supreme for large ethnic weddings, and we won't deny that Taglyan's Grand Ballroom looks breathtaking bathed in orange, blue, green, or red light. In 2016, however, we predict that more brides will choose to pair natural, soft lighting with off-white color palettes and "Edison" bulbs; this combination of diffused light and vintage fixtures creates a romantic ambiance fit for the silver screen.
Unique Centerpieces
Colorful floral arrangements will always have a place at the table for traditional wedding receptions, but more daring brides are experimenting with non-floral centerpieces like potted trees, succulent gardens, exotic-looking ferns, and blooming branches like Quince or Cherry Blossoms. Stripped-bare branches painted in metallic colors will continue to trend upward in 2016, as well.
Specialty Stations
While many couples favor the elegance of a full sit-down dinner, trendy weddings will incorporate creative elements like champagne fountains, ice cream bars, custom-cocktail stations, and cotton candy makers into their dining experience. Taglyan's five-star catering service, Divine Food & Catering, can accommodate almost any requests, but be sure to tell our event coordinators if you'd like a special addition to your cocktail reception, dinner, or dessert 6-8 weeks prior to your wedding day.
"Naked" Cakes
These unfrosted or partially-frosted wedding cakes are usually topped with fruit or decorated with fresh flowers, making them healthier and more unique than their fondant-covered predecessors. Naked cakes have taken the bridal scene by storm in the last few months, and we expect more couples to embrace this trend in 2016.
Live Music + DJ Combos
In 2016, we predict that couples will stray from the traditional DJ entertainment setup and elect to hire both a DJ and a live musician or band. Though a bit more expensive, this option is a great way to create an exhilarating experience (via the live performances) and still get to dance to all the songs you want to hear.