Choosing your wedding color palette is one of the very first things that couples should do when they begin wedding planning, because doing so will help you determine many other elements, such as décor, the flowers, the invitations, and even the cake.
Some would even say that choosing your wedding colors takes priority even over selecting your wedding venue first, because you may want to book a venue that compliments your colors. It will depend on which is one more important to you. If you have dreamed of having a pink-and-gold wedding since you were a child but have never considered what kind of wedding venue you want, then determine your wedding palette first.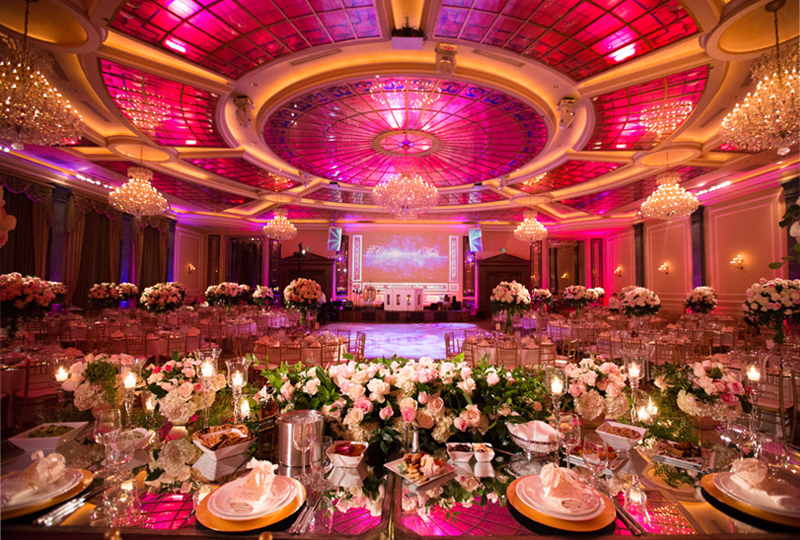 However, if you're crazy about a certain wedding venue and don't have a wedding color scheme in mind yet, your venue will take center stage.
Either way, your wedding color palette is very important. It's very normal to be unsure and overwhelmed by where you should begin when deciding on your wedding color palette, but don't worry. Here are some tips on choosing your perfect colors. (Bonus: it's also one of the most fun parts of wedding planning!)
What Is Your Personal Taste?
 Before you get too carried away, it's a great idea to sit down with your fiancé(e) and decide what type of color schemes you both love.
Do you like your colors glam, with lots of metallics? Or is your preference more classic, with soft, floral-inspired tones? Perhaps you want something simple and clean, like a deep earthy green, or something beachy—like pale blue and baby pink. Then again, maybe deep, rich jewel tones are more your speed.
Whatever you decide you like, be sure to choose a main color, and then 2-3 accent shades for your full wedding color palette.

It's All About The Style
 Another element to consider is the style of your wedding, because the colors you choose will greatly affect that. Colors are very powerful, and can evoke different vibes for your wedding.
For example, if you want your wedding to feel dramatic and luxurious, think about deep, rich colors such as burgundy, navy, or royal purple.
If you want your wedding to feel more light and trendy, your wedding color palette will have brighter, poppier colors like fuschia, teal, and yellow.

Get Inspired
If you find yourself having trouble coming up with your wedding colors—or you can't agree on them—find something that inspires you, and borrow from that.
The inspiration could be anything. It could be a place, a film, your favorite flower, a delicious dessert, even a book. If The Great Gatsby makes you think of jewel tones and champagne bubbles, that's inspiration. Use it!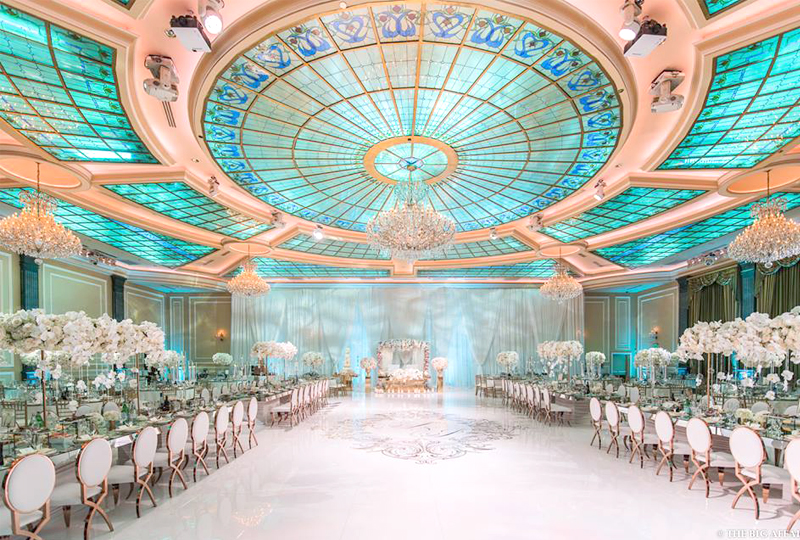 If you daydream about traveling to Bora Bora, maybe your wedding color palette should be inspired by that—bright blues and gorgeous sunset skies.
Find something that you love, and borrow from its beauty.

Determine Where To Incorporate
Your wedding colors will be utilized in many places, so it's very important that you are pleased with the palette you choose. Some of the areas where you can utilize your colors include:
Invites and stationery
Florals (bouquets, centerpieces, boutonnieres, archways)
Groomsmen's bow ties/suspenders/ties/socks
Aisle runner
Engagement Photos
Décor (furniture, centerpieces, draperies, backdrops)
Tablescape (place cards, dishes, silverware, runners)
Signature Cocktails
Cake
Wedding favors
Send-off items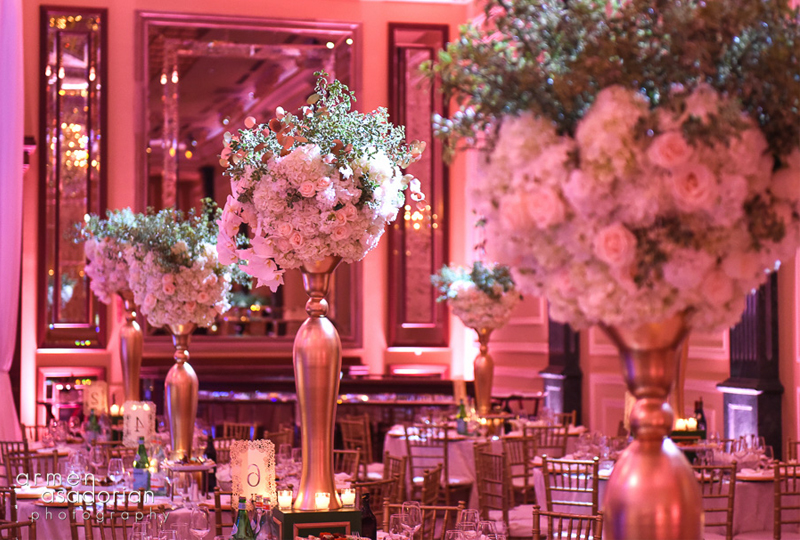 When you envision these things, envision them with the wedding color palette that you have chosen. Does it work? Do you like it? Make sure the answer to these questions is yes.
Do You Want An Ombre?
Some couples prefer to only choose one color, and then make their wedding color palette an ombre of that one color. Even though this ends up being many individual colors, you really only need to choose one as a jumping-off point. Selecting an ombre simplifies the wedding color palette planning, and often has gorgeous results.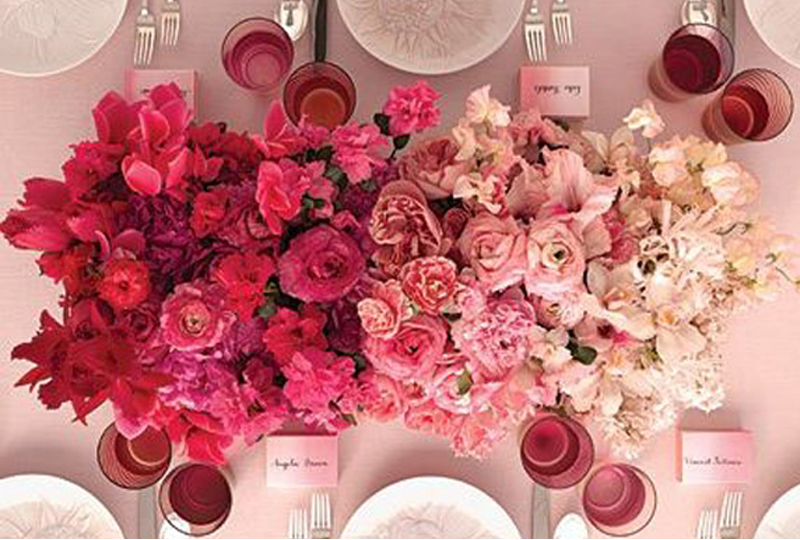 Image: marthastewartweddings.com
Consider The Season
If you're still undecided about your wedding color palette and are having trouble finding inspiration, consider the season in which you're getting married. Whether it's spring, summer, autumn, or winter, there are dozens of color palettes to go with any season. You can simply research color palettes for your season, and then choose your favorite one.

When In Doubt…
Go with your favorite color. After all of these tips, if you're still unsatisfied, we recommend simply going with the color that has always been your favorite—that is, if your fiancé(e) likes it too. Who knows, maybe you even have the same favorite color!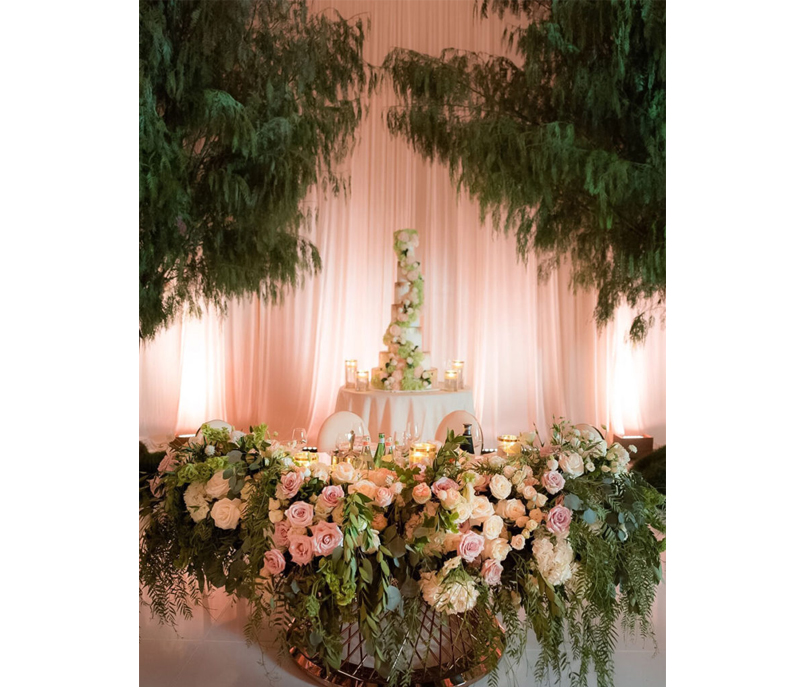 We sincerely hope that this article helps you as you choose your own personal wedding colors. At Taglyan, we are known for our extraordinary ceiling, which can be customized to match any wedding color palette. This enhances the personalization of the couples' color choice. If you're interested in seeing our ceiling in action, take a look at our photo gallery. You can also contact us if you're interested in booking with us!