Here at Taglyan, we're asked questions of all kinds about wedding planning. Our services go above and beyond just providing a venue: we also help couples plan certain aspects of their ceremony and reception. A question that we get every once in awhile that seems to be very important to couples is: How do we include our children from previous relationships in our ceremony?
Different ages mean different areas of participation, and with blended families, this topic can get tricky. But if approached with sensitivity and love, this subject can be fun and creative to plan.
Here are several of the best ways to involve your children in your wedding.
Flower Girls And Ring Bearers
This is the most obvious choice for kids between the ages of 4ish to 8ish. Little girls this age absolutely love walking down the aisle throwing petals, and boys this age love the idea of having an important task. If you think your son(s) or daughter(s) might be a little a little too disruptive after walking down the aisle, arrange for a friend or family member to collect them and keep them quiet in a seat in the front row.

Junior Bridesmaids And Groomsmen
For kids around the ages of 9-16, this is a great idea. Being a junior bridesmaid or groomsman means that your son(s) or daughter(s) gets to walk down the aisle and stand at the altar with the wedding party; gets a similarly-styled dress or suit (or identical if you like); gets to attend the rehearsal dinner, and gets to help plan certain pre-wedding events. You can also give them special duties, like passing out sparklers for the send-off.

Assistance With The Wedding Planning
If your kids are old enough, it can be fun and beneficial to them to get them involved with the actual wedding planning. If you're willing, letting them give their input on music, flowers, entertainment, catering, and attire can go a long way in showing them that you respect and trust them, and that you want them to be a big part of your wedding.

Let Them Make A Speech Or Sing
Even if the decision is made for your kid(s) not to be in the wedding party, allowing them to do a reading during the ceremony, be a part of the unity candle, make a toast at the reception, or sing a special song can make them feel like they're involved and relevant.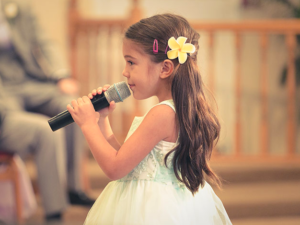 Show Off Their Talents
This sort of goes in the same vein as the idea above, but it's a bit different. It may make your kid(s) feel amazing to have their unique talents be showcased at your wedding. Whether you allow your child to play the guitar, you display their artwork, you allow them to design the invitations, you allow them to decorate your wedding cake, or they choreograph a "surprise" dance number for the reception, this could be a truly moving aspect of your wedding day—and one that your kid(s) will appreciate and love. Maybe your teenager is amazing at hair or makeup and wants to do that. Or maybe they're a talented photographer and would be honored to take pictures. The key here is to talk to them about if that's something they would like to do.

Include Them In The Cake
Did you know that you can get blended family wedding cake toppers, and that they're adorable? This small, but very cute, idea is a fun way to say, "We love our new family!"

Simply Ask
Something important to also remember is to actually ask your kid(s) if they want to be a part of the wedding day. Most of the time the answer is yes, but it's wise to not just assume they'll want to.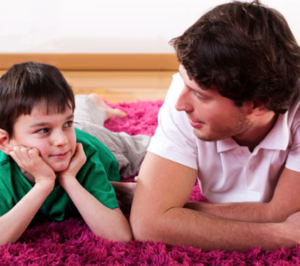 Every couple and family is different, so it will always take a little figuring out. You're all in it together, so be sure to listen with open eyes, ears, and hearts.