Farewell 2013 and welcome 2014! The most popular trends are inspired in 2014, yet again by the film "The Great Gatsby" that was released last year, but is still making a significant effect on wedding themes and bridal trends in 2014. Gatsby himself lived the glamorous lifestyle, throwing lavish parties, showing everyone how you can have formality and elegance, while still enjoying the good times to the fullest.
Lace was a big part of 2013 wedding trends and is a big part of 2014. Lace is still one of the top fabrics chosen for bridal dresses this year. Wedding dresses that will be popular will have lace sleeves, lace necklines, lace on hems, and lace décolletage.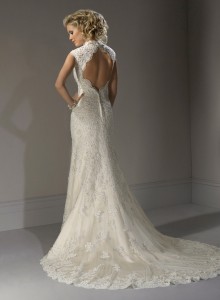 We will be seeing a lot of lace this year, mixed with detailed jewels and embellishments for representing the Great Gatsby style glam. Lace is also being used for the back side of wedding dresses, which is also another big trend this year; lace back brides-ooh la la!
The backs of bridal dresses will be very important this year- think dramatic bridal backs like bare backs, or cut out backs for all the daring brides; sexy yet elegant!
We bid farewell to strapless bridal dresses and gowns and what's in this year is wedding dresses with sleeves and straps of all kinds.
Also what's back is the halter top for wedding dresses, which we will be seeing a lot of.
White for wedding dresses will not be popular this year, when most brides will opt-out from the traditional white and choose shades of ivory, peach and lighter pinks, such as blush and various shades of gold.
Using gold adornments is another hot trend this year, with bridal dresses, table settings including China and table centerpieces, gold chandeliers, and candleholders.
Using candles will be quite popular this year; many will use gold candelabras for their wedding décor, which makes for beautiful table centerpieces. Even for the brides who want to use flowers for their table centerpieces, will choose vases of metallic gold. Gold represents wealth and will be a popular trend for all aspects of weddings this year.
For wedding cakes, the hottest trends are incorporating gold into the grandest presentation. Whatever color scheme brides choose will be mixed with gold appliqués, including gold flakes and petals making wedding cake look shiny, yet sophisticated at the same time.
Now I can't wait to be a guest at a wedding, especially because I'm a big fan of all the mentioned wedding trends of 2014-who knows maybe I'll be the bride this year and incorporate all these hottest trends for my Great Gatsby glam wedding!