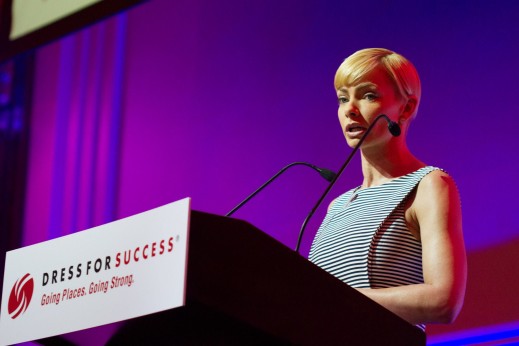 The 3rd Annual Dress for Success Worldwide (West) Empower Breakfast, an event which connects passionate leaders, organizers, and volunteers who aim to help women find and keep jobs, drew hundreds to the Taglyan Complex Grand Ballroom on Thursday, April 30th. Hosted by Emmy Award-winning actress and Dress For Success ambassador Jaime Pressly, the event honored Paige Adams-Geller, Founder of Paige Denim, and Pat Harvey, award-winning news Anchor for CBS 2. The Empower Breakfast also included a charity auction, free giveaways from Dress For Success sponsors, and moving testimonials and success stories from women whose lives have been impacted by the organization.
About Dress For Success Worldwide
Founded in 1997, Dress for Success is a non-profit organization that promotes economic independence by providing disadvantaged women with new and gently-used professional clothes, career development programs, and a network of support to help secure steady employment. Today, Dress For Success has chapters in 140 cities in 19 countries, and has provided more than 850,000 women with tools, training, and business attire. The NPO also collaborates with over 5,000 organizations throughout the world, including homeless shelters, immigration services, job training programs, educational institutions, and domestic violence shelters to help women succeed in job interviews.
For more information on hosting an event at Taglyan Complex, please contact Taglyan Complex today.