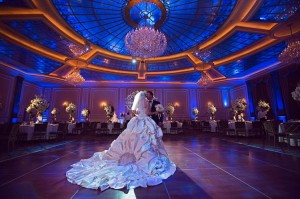 Taglyan Complex is famous for hosting lavish events at our beautiful complex, which includes political debates, award ceremonies, and luncheons. But the most important events held in our venue are still wedding receptions.
Married couples could hold their wedding reception in their backyard or school gymnasium, so why do they choose Taglyan? We offer unparalleled service, amenities, and luxury.
1) The Perfect Backdrop
Taglyan is renowned for our lovely décor, with a sophisticated design providing the ideal location to build lasting memories. If you're going to spend time and effort finding the perfect dress, you need the perfect backdrop to accentuate it. From the chandelier to the stage to dining settings to the custom lighting, Taglyan pays attention to every small detail to make our venue unforgettable.
2) Divine Food & Catering
Taglyan uses our personal catering service for weddings and other events. The reason is simple: Divine Food & Catering cooks some of the tastiest cuisine in Los Angeles! Along with mouth-watering food, their foods also feature an aesthetic appeal, making your meal look fit for a king and queen.
3) Access to Top Vendors
With prestige comes perks, which we want to share with our clients. Having worked closely with premier wedding planners, decorators, DJs, photographers, florists, and other associated professionals, we can make recommendations you are sure to appreciate, in all price ranges.
4) Friendly Staff
Weddings can get stressful, so our staff is here to lend a hand when you get overwhelmed, or simply when you want advice.
5) Eager to Please
We understand just how important this day is to all involved, especially the bride and groom. We will work hard to make sure everything goes according to plan, so that you will reflect back to your wedding as one of the best days of your life.