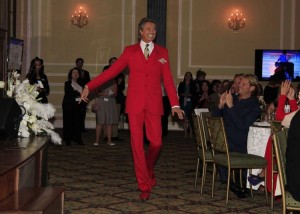 Taglyan Complex was the host of the 17th Annual Tony Awards Viewing Party on June 9th with host and 9-time Tony winner Tommy Tune. The event honored Broadway's leading ladies, such as Marissa Jaret Winokur of "Hairspray"; gymnast Cathy Rigby of "Peter Pan"; Nancy Dussault of "The Sound of Music"; June Lockhart, a 1948 Tony winner for "For Love or Money"; Charlotte Rae of "Li'l Abner"; and Millicent Martin of "The Boy Friend."
The event began at 3:30pm with cocktails and a silent auction, followed by dinner and the live-airing of the Tony Awards ceremony at 5pm on a big screen, while the rest of the West Coast was forced to wait for the tape-delayed airing at 8pm.
Tommy Tune and his fellow entertainers offered singing, acting, dancing, skits and more in between the awards segments, basically replacing the commercials with live theater.
Audience members, made up of 400 veteran actors and other industry professionals, gave approving shouts for Tony winners they were cheering. Among the celebrities in attendance at Taglyan were Mickey Rooney, Loni Anderson, Stephanie Powers, Mitzi Gaynoe, Ruta Lee, and Kate Linder.
Profits for this event went to The Actors Fund, a national human services organization that employees in the entertainment industries, including television, theater, movies, opera, radio, dance and performing arts, both on and off stage. Services include emergency assistance, health care, employment, training, and housing.