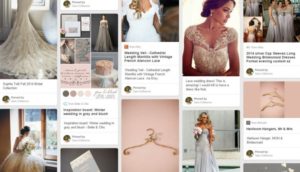 Over the past few years, Pinterest has become the go-to resource for planning any event, from birthdays and showers to weddings. There are so many creative and innovative ideas on the online visual idea board, from regular folks to professional designers and artists alike.
You can use Pinterest to get ideas on the concrete details of your wedding, like the flowers and colors. But there are so many other ways you can use Pinterest for planning as well.
Find Local Vendors
GigMasters is a great way to find vendors in your local area and to receive referrals from past customers, but Pinterest offers a different perspective. Many vendors are now jumping on the Pinterest wagon, creating their own boards after realizing just how powerful Pinterest can be for marketing and sharing their offerings.
Follow a few potential vendors in your area, including florists, dress designers, planners, and cake bakers to see what they pin. You will get an inside scoop on their style and the types of events they love to work for most.
If you feel that your styles mesh well and they will be able to understand what you're going for, you can then reach out to them personally.
Crowdsource Your Wedding Planning
Create a few group boards on your Pinterest account to share ideas with friends and family. You can start pinning ideas for the bridesmaids' dresses all in one place and allow your maids to check them out on their own and give you their thoughts. Just don't pin too many or you may have a nightmarish time of narrowing it down.
People with access to the group boards will also be able to share pins themselves, showing you ideas that you may not have thought of. As a busy bride with a lot on your plate, this is sometimes a great way for your loved ones to help you out and share some of the planning load.
Another great way to use group boards is for pulling together the wedding day playlist. Friends can pin videos or album covers to a "music" board and help you compile a list of all the songs everyone wants to hear.
Wrangle The Advice And Opinions In One Place
Every bride-to-be and past bride can tell you that once wedding planning commences, the opinions and ideas from others don't stop coming in. Your loved ones are so excited for you and simply want to share their enthusiasm and help you plan your dream wedding.
But quite often, it just gets to be too much. Instead of risking a tiff and asking anyone to stop with the outside opinions, ask them to share their ideas on Pinterest.
You can invite people to create a board of their own and share it with you, or you can create a board for each person who really wants to share their two-cents and just let them share their ideas there.
Help Out-Of-Town Guests
There is an "add a map" feature on Pinterest that allows you to select specific locations. Create a board to help all of your out of town guests see exactly where each of the events will be taking place, from the rehearsal dinner to the ceremony and reception.
You can also add locations for your bridal showers as well. Pin photos of the venues, hotels, and any other locations that will be helpful for out of town guests.
You can also pin and share ideas for things they can do the rest of the weekend, and in between the ceremony and reception if there will be a time block before the cocktail hour begins.
Get Unique Ideas For Your Wedding Day Look
Many brides have their own ideas of how they picture things before they even get engaged. And while you should go for what you love best, you may be missing out on a whole world of ideas that you may have never thought of.
Pinterest is chock full of tips, tricks, and ideas from top designers and stylists from all over the world, and you may end up seeing something that totally changes things for you.
For example, you may have an idea of how you want to look on your wedding day. You may be thinking about how you can create a look that you normally don't ever wear, or you may just be going off of what feels natural to you.
Pinterest can expand your horizons and cause you to consider other options that you may love even more and that may actually suit your style and features better than what you had in mind. Read this article on the most pinned wedding hairstyles for some inspiration on how you can transform your 'do on your wedding day. It provides something for every type of bride, but all of them are incredibly romantic and perfect for the bride who doesn't want anything too structured.
For help planning your dream wedding reception at a truly breathtaking venue that will surpass anything you've seen on Pinterest, get in touch with Taglyan Complex! You can also take a look at Taglyan's Pinterest board for more wedding inspiration.