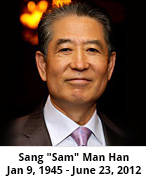 Friday, October 26th is the date of the 4th Annual Hans-Schneider International Children's Foundation Silent Auction & Benefit Dinner at Taglyan Cultural Complex, with tickets still available and supporting a terrific foundation.
The HSICF raises and donates money to poor children in third-world nations, such as North Korea, Tanzania, and Cambodia. This is one of many events planned to collect money for the noble cause.
Unfortunately, HSICF founder Sam Han passed away in June of this year after a long battle with cancer, but his legacy and foundation will continue to operate in his absence. Han dedicated the Foundation to his father, Dr. Schneider, who adopted him as an orphan during the Korean War.
The event begins at 7:00 PM and includes a benefit dinner, live music, cocktails, and silent auction, with all proceeds going toward underprivileged children overseas. They will be supplied with food, clothing, and medical supplies.
If you are interested in attending, tickets are still available for $75 presale and $100 at the door. Along with donating to helpless children, you will also get to enjoy Taglyan's Divine Catering for dinner.