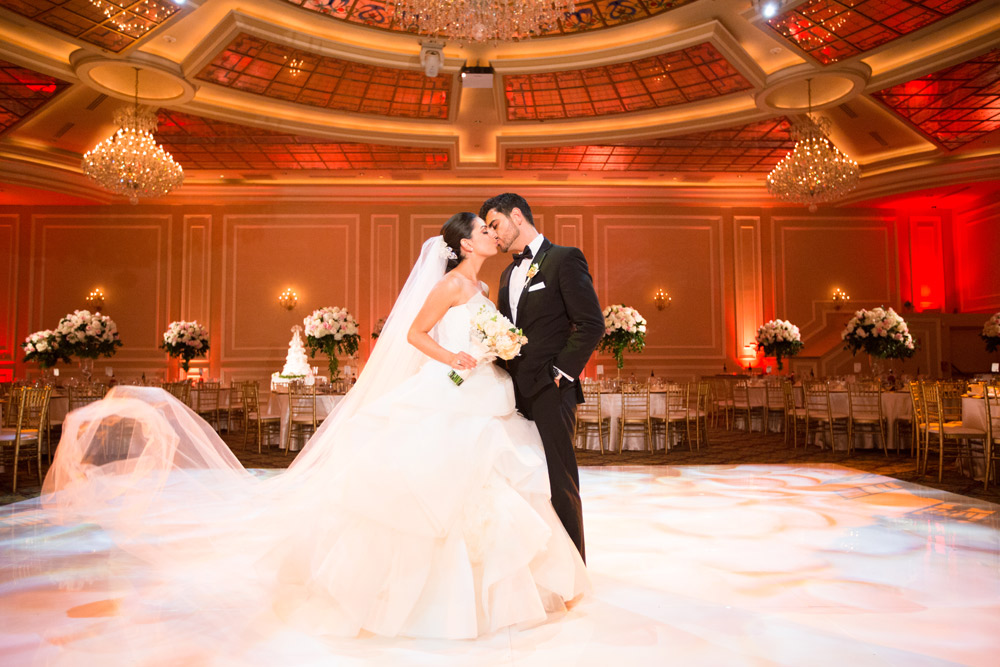 Searching for the perfect wedding venue can be a time-consuming and stressful experience, even if you've already established the size, style, location, and price range of your future celebration space. To help you make the right decision (and prevent future headaches), Taglyan Complex's team of experienced event coordinators have compiled a list of eight points to consider before inking your reservation contract. Be sure your wedding venue has:
Room To Breathe (And Dance, And Talk, And…)
No one likes to feel crowded, least of all when dancing, drinking, and celebrating are involved! Before booking your wedding venue, consider everything you want to include in the space–tables and chairs, DJ booth or band, cake table, champagne fountain, specialty tables, etc.–and make sure that your venue can comfortably accommodate your guest list; the best way to get an idea of a venue's size is to schedule a viewing, or better yet, attend an event with roughly the same number of guests as your wedding reception.
Separate Areas For Every Activity
In our experience, the best weddings are ones in which every activity–the ceremony, cocktail hour, the reception, and the afterparty–all occur in their own designated spaces. Though one way to achieve this is to reserve three or four different venues, the best solution is to find a single space that can accommodate all aspects of your special day; country clubs, hotels, and banquet halls with gardens, lounges, ballrooms, and restaurants are particularly adept at creating this effect.
Plenty of Privacy
Though opting for an outdoor wedding can make for beautiful photographs, if you decide to conduct your ceremony or hold your reception in a public place, such as on the beach, at a park, or in a botanical garden, be prepared for strangers to accidentally stumble through your party and gawkers to unwittingly "photobomb" your most intimate moments. If wedding crashers are something you and your fiance would like to avoid, be sure to book your nuptials somewhere with built-in privacy features, like fences, walls, a gate, and/or a doorman.
Colors You Can Work With
Though your wedding venue's decor/motif doesn't need to match your wedding theme exactly, it's best if the interior colors work well with your bridal palette. (Grey walls, for instance, will fight with browns and tans, while maroon carpets might make your wedding feel undesirably patriotic if your theme employs navy blue and cream). If you love the space but hate the colors, many venues can accommodate clashing color palettes by hanging drapes, changing the tablecloths, and adjusting the interior lighting.
Phenomenal Lighting
Lighting is the single most important determinant in amazing wedding photos–if the venue lighting is great, chances are your once-in-a-lifetime photographs will be phenomenal as well. When viewing each wedding venue, ask as many lighting-related questions as you can think of: how bright is the venue at night?; can the bride and groom be spotlighted for their first dance?; can the lighting/colors be adjusted to match the bridal theme? (To see examples of LED lighting at it's best, peruse through photos of our Los Angeles wedding venue!) If possible, ask to see some photographs of other weddings that occurred at the venue, or better yet, bring a professional photographer along to assess the venue's photographability.
A Great Sound System
Large wedding venues often come equipped with an in-house speaker system and, if the venue is extremely professional, a designated sound engineer to make sure your party sounds extraordinary. If the event space does have it's own sound system, ask to hear examples of both the music and a person speaking through a microphones while standing in various places throughout the venue; if the venue doesn't have a built-in speaker system, be sure to ask about amplifier rentals and hiring a sound engineer for your wedding reception.
Ample Parking For Everyone
Though it's often the last thing many couples consider, asking about the venue's parking situation should be one of the first thing on your mind (especially if the venue is in a populated area or city). If the wedding venue doesn't have it's own parking lot, inquire about where guests typically park–street parking, nearby parking structures, valet services–or consider that other arrangements, like a shuttle bus or trolly to transport your guests to the reception venue, may be needed.