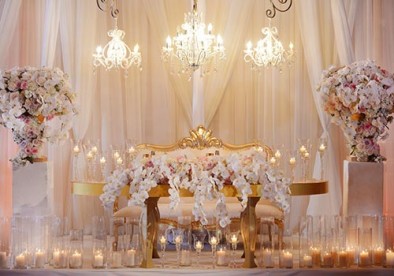 Taglyan Cultural Complex regularly plays host to some of the loveliest, most opulent weddings in southern California. As a new feature on the Taglyan blog, we are proud to introduce our Bridal Bliss series of blogs. In this ongoing series, we will periodically choose one of our beautiful newlywed pairs to spotlight in their own write-up as a featured couple.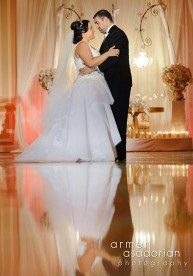 For our very first Bridal Bliss feature, we've chosen to cover Narguess and Vahid's gorgeous summer wedding and reception, which took place in Taglyan's luxurious grand ballroom under our famous custom-lit stained glass ceiling.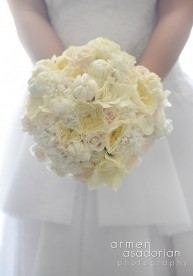 Narguess and Vahid are Persian, and their ceremony incorporated both contemporary elements and beloved family and cultural traditions into the program. One of the most beautiful and striking features was the traditional Sofreye Aghd assembled in the entryway. This phrase translates to "wedding spread", and describes a very elaborate floor display of specific items and foods to bring different types of blessings to the bride and groom, and to encourage key virtues as they create their life together. Sofreye Aghd can include hundreds of different components, but the most common themes are coins and gold-colored items for prosperity, candles and mirrors symbolizing light and fire, sacred texts, meaningful blessed foods to share with guests, and honey used in a romantic feeding ritual immediately following the marriage ceremony.
The thoughtful design and artistic grace that went into assembling the wedding spread for this couple was truly breathtaking; our grand foyer has never looked so good!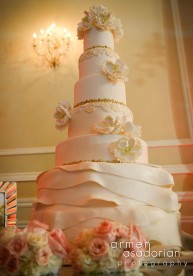 Guests and event staff alike remarked on the wonderful loving, positive energy that radiated from this happy couple and the consideration they showed in making sure every guest was not only comfortable but delighted.
At Taglyan, your wedding day is as special to us as it is to you. Our on-site event and catering teams are ready to welcome you and coordinate with your chosen wedding professionals to create wedding day memories you and your loved ones will treasure forever. Contact us today to reserve our space for your dream wedding.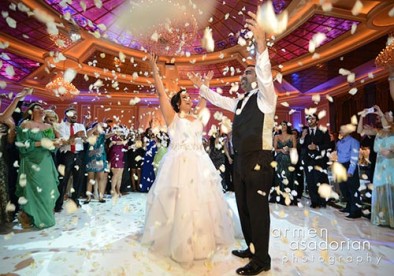 Best wishes and congratulations to Narguess and Vahid!
Photography: Armen Asadorian Photography
Coordinator: LoveIt Events
Flowers: Petals LA
Cake: Rafi's Pastry & Cakes
Sweet heart table decor: White Night Design
Dior chairs and mirror table: CMC Rentals
Wedding Gown: R-Mine Bespoke