Oprah Winfrey was just one of the many celebrities that gathered at Taglyan Complex to celebrate the 6th Annual African American Film Critics Association (AAFCA) Awards on Wednesday, February 4th. Ms.Winfrey, along with Ava DuVernay, accepted the Best Picture Award for their roles (producer and director, respectively) in bringing "Selma", the biopic about Martin Luther King Jr, to life. "We are so pleased that people have come away from watching "Selma" in tears," Oprah said in her acceptance speech. "We're honored to receive this award from AAFCA. We won Best Picture!"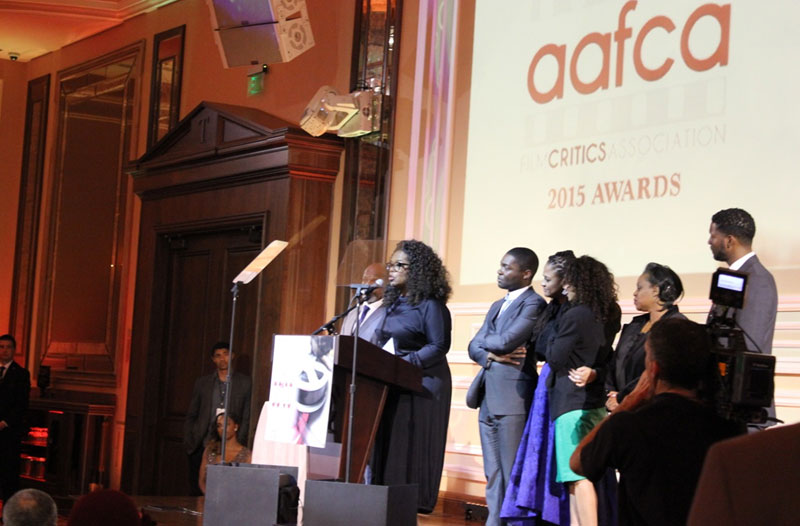 Though other films also garnered attention from the AAFCA – most notably "Dear White People" (Best Independent Film and Tessa Thompson, Breakout Performance Award), "Gone Girl" (Tyler Perry, Best Supporting Actor), "Whiplash" (J.K. Simmons, Best Supporting Actor), and "Belle" (Best Actress in a Leading Role, Gugu Mbatha-Raw) – "Selma" was the critic's overwhelming favorite; in addition to winning Best Picture, the film earned Ava DuVernay the award for Best Director, David Oyelowo the award for Best Actor in a Leading Role, and John Legend and Common the Best Music award for their song "Glory."
"We are so pleased that people have come away from watching Selma in tears, and we're honored to receive this award from AAFCA. We won best picture!" – Oprah Winfrey
The award ceremony's additional honorees included producer and Los Angeles Film Festival Director Stephanie Allain, who received the Legacy Award; Susan King of the LA Times, who received the Roger Ebert Award; Gina Prince-Bythewood, who won Best Screenplay (the Horizon Award) for "Beyond the Lights"; Chadwick Boseman, who accepted the Best Ensemble Award on behalf of the cast of "Get On Up"; and Debra Martin Chase, who received the Ashley Boone Award. The AAFCA also recognized Universal Pictures Chair Donna Langley and The Black List founder Franklin Leonard with Special Achievement Awards for their contributions to film industry.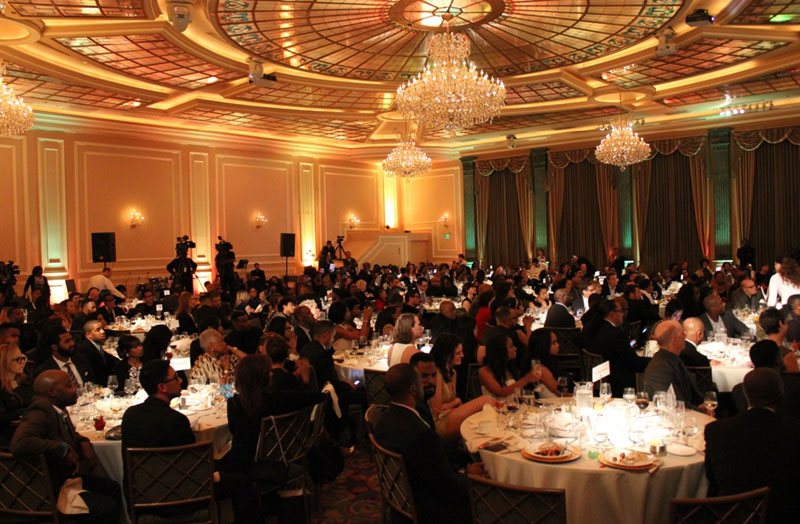 The 2014 AAFCA Awards Winners:
Best Actor in a Leading Role – David Oyelowo, "Selma"
Best Actress in a Leading Role – Gugu Mbatha-Raw, "Belle"
Best Supporting Actress – Octavia Spencer, "Black or White"
Best Supporting Actor – Tyler Perry, "Gone Girl" / J.K. Simmons, "Whiplash"
Best World Cinema – "Timbuktu"
Breakout Performance – Tessa Thompson, "Dear White People"
Best Director – Ava Duvernay, "Selma"
Best Screenplay – Gina Prince-Bythewood, "Beyond the Lights"
Best Music – John Legend / Common, "Glory" (from the "Selma" Soundtrack)
Best Ensemble – "Get On Up"
Best Independent Film – "Dear White People"
Best Animation – "The Boxtrolls"
Best Documentary – "Life Itself"
Other esteemed guests at Taglyan Complex included Amy Pascal, Co-Chairman of Sony Pictures Entertainment; Academy Award-Winning director Kathryn Bigelow; Khandi Alexander of "Scandal"; Mike Epps of "Survivor's Remorse"; President of the Academy of Motion Picture Arts & Sciences Cheryl Boone Isaacs; Chaz Ebert; RZA; producer/director Will Packer; Dondre Whitfield; Edwina Findley; Andre Royo; Gary Marsh, of the Disney Channel; and comedian Bill Bellamy, just to name a few.
The 6th Annual AAFCA Awards was produced by Gil Robertson, co-founder of the AAFCA, and hosted by Entertainment Tonight television personality Nischelle Turner.
About the AAFCA
The AAFCA was founded in 2003 by journalist Gil Robertson and colleague Shawn Edwards and has grown into the largest the black film critics' organization in the United States. In addition to recognizing films that celebrate the African American experience along with black actors, writers, directors, and producers, the AAFCA also produces workshops with film festival partners nationwide and funds an internship program for students who aspire to become film journalists.
When the Burton Wire questioned Robertson about the AAFCA's significance today, he enthusiastically responded, "We [started the AAFCA] to address the need we thought was missing in the industry, primarily the lack of support for black journalists covering cinema and entertainment. We also thought that we could meld together resources to help people grow and maintain their careers, and advocate for them in the studio system." When asked about the films at the 6th Annual AAFCA Awards, he said, "We are more than delighted with our distinguished group of honorees for 2015. Each of them have achieved a level of excellence with their body of work in their respective crafts. They are examples who are to be admired and the members of AAFCA look forward to celebrating their achievements."